In honour of the release of A Court of Wings and Ruin I have decided to compile all three of my reviews for the original trilogy set in Prythian (we now know there will be more books set in Prythian – just not about Feyre and Rhys!). A Court of Thorns and Roses was actually the first book I ever reviewed on my blog, so I am very excited to be re-sharing these three reviews with all of you!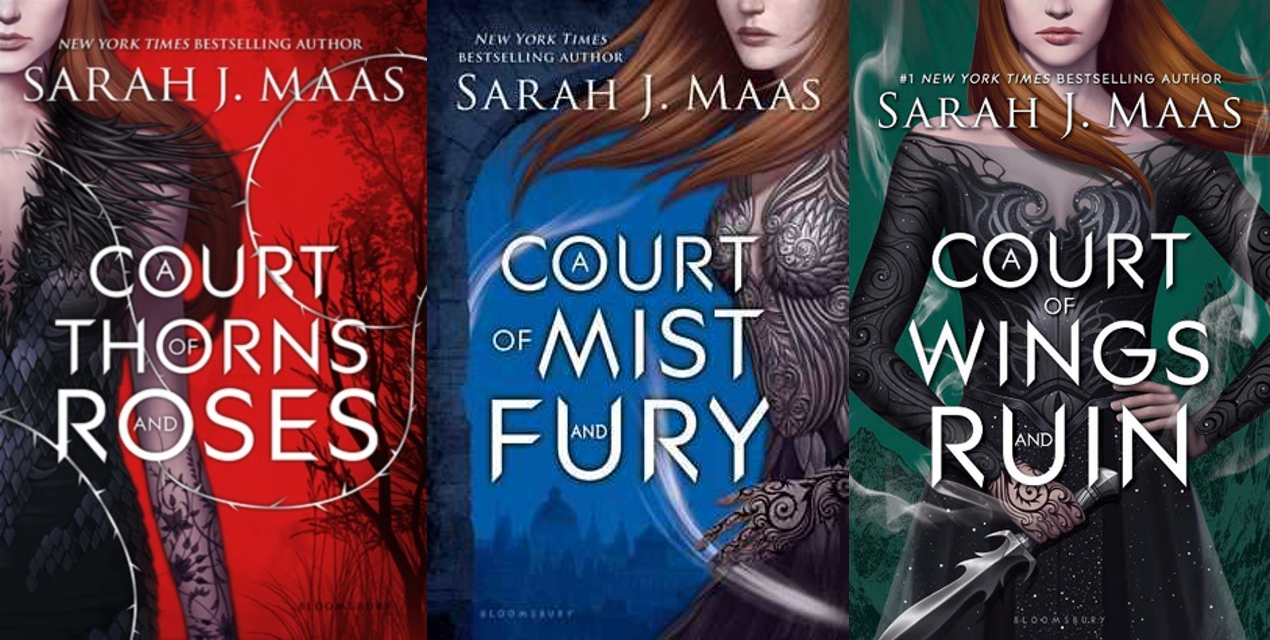 The reviews below contain spoilers, so I recommend you read at your own discretion – and only if you are willing to encounter spoilers!
A Court of Thorns and Roses (3.5/5)
A Court of Thorns and Roses, the first in a new series by Sarah J Maas has it all- mystery, magic, romance (along with more than enough sexual tensions and steamy sex scenes) and plenty of violence.
A Court of Thorns and Roses is centered around a human girl by the name of Feyre, whose destitute family lives on the brink between the human world and that of the Fae. To Feyre, the Fae are a hated tale as old as time, yet not enough to scare her out of the forest, where she hunts to keep her family fed. However, when Feyre knowingly kills a Fae patrol (in the form of a wolf), she finds herself whisked away to the Spring Court of Prythian by the handsome Fae Lord, Tamlin. The Spring Court is ripe with mystery, intrigue and tension, which Feyre soon discovers to be centered around a mysterious "her". Guided through Fae politics and life by Tamlin and  Lucien, Feyre comes to love Prythian (and a certain handsome High Lord) and the freedom and release it offers her. Too soon, however, this brief illusion of safety and happiness is shattered, and Feyre finds herself plunged into the horrors Under the Mountain, a terrible court ruled by the self-proclaimed Fae Queen, Amarantha. Forced to compete in a series of grueling and torturous trials in order to save her friends, Feyre must make impossible decisions that will tear her far too human heart apart.
This book is everything readers of the Throne of Glass series could have hoped for when Sarah J Maas decided to delve into another YA High Fantasy novel. Its everything any readers could have hoped for from YA High Fantasy, to be honest with you. Too often, Young Adult Fantasy books shy away from becoming too "fantastical", and they definitely shy away from the amount of sex and gore Sarah J Maas infuses her books with. A few specifics:
The story of this novel is just convoluted enough that the reader can follow without much difficulty, but has enough twists and turns (how about that 3rd trial?!) that the reader finds themselves incapable of putting this book down.
The characters, particularly Feyre, are exceptionally well fleshed out, and their motivations, emotions and decisions all feel very real and realistic, despite the fantasy setting of the story. One character I particularly enjoyed, and can't wait to see more of in A Court of Mist and Fury is Rhysand- I feel like we've only scratched the surface of a far more complex character, who, like most of Maas' characters, likely has far more convoluted motivations than Feyre understood. I'm starting A Court of Mist and Fury today, so I'll see if I'm right about this soon enough!
The sex! Let me tell you, Sarah J Maas has never been one to shy away from sex in her books, but A Court of Thorns and Roses takes it to a whole new (very descriptive) level. Maas doesnt pull any punches when describing Feyre and Tamlin's budding romance, and some other steamy instances, and she definitely has no reservations about describing sexual encounters with plenty of detail. 
This book also features (more than) its fair share of violence and gore. We've got High Fae killing dangerous Fae invading the Spring Court territory, we've got High Fae fighting High Fae, we've got torture, murder and Feyre's brutal trials, to name a few. Feyre's treatment, as a prisoner and human, Under the Mountain, is probably to most brutal, however the torture and murders of others Under the Mountain are not to be ignored.
A fantastic addition to the YA Fantasy genre, this book was a whirlwind of action and emotions that kept me up until late at night turning the pages, desperate to know how the story ended. A Court of Thorns and Roses, and indeed all of Sarah J Maas books, are well worth the read.
A Court of Mist and Fury (5/5)
After A Court of Thorns and Roses, I really didn't think that Sarah J Maas could produce something that would outdo the intrigue and draw of the first book in this series. I was utterly wrong. I read A Court of Mist and Fury in less than 2 days (and I am now dealing with some serious disappointment at how long I'll be waiting for Book 3), and I loved every page, no every sentence, of this book. Maas brought the same sexy, dark world back to life in this second installment, which was expected, but she also infused this book with some hard hitting topics, which wasn't expected.
A Court of Mist and Fury picks up approximately 3 months after the epic conclusion of A Court of Thorns and Roses, with Feyre adjusting (badly) to her new life as a High Fae. Actually, more accurately, she's adjusting (badly) to being with Tamlin, who in light of the horrors they encountered Under the Mountain, has become an over-bearing, brooding and somewhat frightful High Lord, who has essentially confined Feyre to the house. With their wedding imminent, Feyre is drowning under the idea of being irrevocably tied to Tamlin as she struggles to come to terms with the choices she made Under the Mountain. It's only when Rhysand shows up to make good on his bargain that it becomes clear that Feyre is literally wasting away. Following a dramatic fall out at the Spring Court, Feyre is faced with a decision, and the implications leaving Tamlin will have for both herself, and her newfound friends. Her decision leaves Feyre at Rhysand's side, navigating both the Night Court and her newfound Fae abilities and they race against time and unknown foes to combat the rising threat that is Hybern. The plot culminates in an entirely unexpected (or maybe I should have expected it but I was too drawn into the plot) turn in events, that will push Feyre, her friends and her family to heartbreak, hatred and war. Once again, Maas has crafted an epic conclusion to a novel riddled with twists and turns that will leave the reader stunned and wanting more.
So, in case I didn't make it clear, I LOVED this book. It was everything I didn't know I wanted from this sequel, and more. In particular, I wanted more of Rhysand, because his character hinted at much more depth than was explored in A Court of Thorns and Roses, and what Maas gave us was absolute perfection. Don't get me wrong, I was totally all about Tamlin and Feyre in A Court of Thorns and Roses, bu even the most hard-core fan of their relationship would be hardpressed to say that Feyre should have stayed with him after that incident (we'll get there in a bit). No, after everything that happened Under the Mountain, I feel that the progression of the relationships in A Court of Mist and Fury was exactly what it needed to be. A few specifics about the book:
Feyre undergoes some major character development in A Court of Mist and Fury, which should be expected after the events that unfolded at the end of A Court of Thorns and Roses. Maas development of new (notably Rhysand's Inner Circle) and old (primarily Tamlin, Lucien and Rhysand) charaters was also flawless once again. She's got a real talent for making well-rounded, real characters who feel believable, and who you really care about. How else could she make you go from despising Rhysand to feeling his broken heart as if it was your own?
MORE SEX. Like, lots of it. Very descriptive, steamy sex scenes riddle the pages of this book, basically from the first chapter onwards. Maas has never been one to shy away from sex, or violence for that matter (of which there plenty), but she really outdid herself in A Court of Mist and Fury. It's not even just the actual sex- the sexual tension between Feyre and Rhysand is enough to make most people blush.
Now, for the nitty-gritty of why I loved this book so much. For those of you who haven't read the book yet, this is your cue to stop reading this, go read the book, and come back later!
Sarah J Maas did something with this book that most YA Fantasy books never really do- she touched on the hard-hitting topics of mental health (PTSD) and domestic violence, making them relatable and understandable to the reader, through the framework of Feyre's journey. It shouldn't be surprising that Feyre was struggle big-time with the implications of what she did Under the Mountain (she killed some Fae, was basically Rhysand's public whore, and suffered immeasurably throughout the trials), but what was surprising was that Maas made Feyre's struggle to come to terms with her experience so central to the plot.I apologize in advance for the lengthiness of this next bit.
Feyre is literally wasting away at the start of the book – she's not sleeping, she's not eating, she's vomiting regularly, she's not painting- and most importantly, she's not talking about it. Tamlin is effectively ignoring her struggle (we'll get to that later). It's actually Rhysand, who probably has far more inner demons to struggle with, that helps Feyre come to terms with what happened Under the Mountain, giving her the room to explore her emotions but also forcing her to confront them and deal with them. He is compassionate towards her struggle, and willing to meet her halfway in order to overcome her demons. This alone basically sealed the deal on their relationship for me, the rest was just an added bonus.
If Rhysand's blatant compassion and support for Feyre sealed the deal for me, it was Tamlin's blatant disregard and ignorance towards Feyre's struggle with PTSD that turned me against their relationship. I'm sure Tamlin really does love Feyre, but I think his motivations for loving her are entirely selfish. He cares more about his own happiness (and sex) than he does for the well-being and health of his partner. However, it was the turn towards violence and abuse that led me to actually despise Tamlin more than I ever despised Rhysand (because, let's be honest, it's always been pretty hard to dislike a dark, sexy High Lord). Tamlin is consistently rough with Feyre, grabbing her and shaking her on several occasions. However, it is when Tamlin physically (if you can call raw magic physical) lashes out at Feyre, and would have likely harmed her had she not reacted instinctively to the threat, that their relationship teetered over the edge into abusive, in my mind. He then proceeded to continue to ignore her well-being, choosing instead to keep her locked away in his Springtime manor, eventually physically barring her inside it, leading to a nervous breakdown (linked to her previously discussed mental health struggles), from which she was saved by Mor and Rhysand. Tamlin views Feyre as his property, not as person, as is evident through his attempts to get her back. This relationship was, and is, clearly not healthy for anyone, least of all Feyre.
Sarah J Maas has once again produced a masterful work that, like her previous novels, continues to redefine the YA Fantasy genre, while touching on hard hitting topics such as mental health and domestic violence. This book was definitely worth the read, perhaps even more so than A Court of Thorns and Roses, and I can't wait to see what's next for Feyre and Prythian.
A Court of Wings and Ruin (5/5)
A Court of Wings and Ruin is the third installment in Sarah J Maas' wildly popular series, which began with A Court of Thorns and Roses, followed by A Court of Mist and Fury. Released on May 2nd, 2017, A Court of Wings and Ruin is easily among the list of most anticipated Young Adult releases this year, and for good reason!
Feyre has returned to the Spring Court, determined to gather information on Tamlin's maneuverings and the invading king threatening to bring Prythian to its knees. But to do so she must play a deadly game of deceit-and one slip may spell doom not only for Feyre, but for her world as well. As war bears down upon them all, Feyre must decide who to trust amongst the dazzling and lethal High Lords-and hunt for allies in unexpected places. In this thrilling third book in the #1 New York Times and USA Today bestselling series from Sarah J. Maas, the earth will be painted red as mighty armies grapple for power over the one thing that could destroy them all.
A Court of Wings and Ruin certainly had a lot to live up to – its predecessor, A Court of Mist and Fury, was easily my favourite book of 2016, if not my favourite book in recent memory. Generally speaking, A Court of Mist and Fury was very well-received, earning it a 4.7/5 star rating on Goodreads. And while A Court of Mist and Fury remains my favourite book in this series, Sarah J Maas delivered yet again, giving readers a beautifully written and wonderfully executed third installment to a beloved story.
There's something for everyone in this book – romance, action, intrigue, betrayal and deception. Maas really put the time into developing not only the plot and her main characters, but also into continuing to develop the world and supporting characters as well. Many readers wanted some big things from this book, including, but not limited to: the revelation of Amren's true form, the inclusion of some popular fan suspected relationships (including Cassian/Nesta, Elain/Lucien and Mor/Azriel), the inclusion of the other courts of Prythian, and maybe even some justice against those who wrongs the Inner Circle (well, mostly against Tamlin and Ianthe). And I think it's safe to say that Maas delivered a lot in this book.
To be honest, I never really doubted that Sarah J Maas would deliver on the romance – she's never failed in that regard in the past – but she also succeeded in developing intricate friendships, and examined complex bonds within the Inner Court and within Feyre's family. Some of the more platonic relationships in this story actually wound up being my favourite, and they added a whole new layer of complexity and emotions to the story that made this book even better. For example, Cassian and Feyre's friendship, and Cassian's devotion to her as his best friend's mate and High Lady, was really rewarding to see on paper, and greatly built the camaraderie between the Inner Court. I won't lie – the scene when Cassian swooped down from the sky, wings intact, to save Feyre from Lucien's brothers, was arguably one of my favourites in this story. As was the scene where Cassian and Feyre have a heart to heart about what their friendship means to them. Other friendships – between the members of the Inner Court, between the Inner Court and Feyre's sisters, and between the Night Court and other Courts – were also integral to the plot, and went a long way towards building human, heart-breaking characters.
Focusing on the romance bit, there was less of the intense romance (like what was seen in A Court of Mist and Fury), which was slightly disappointing, but not unwarranted considering the nature of the plot. Instead, the romance was sprinkled throughout the story, with no one chapter or portion of the story being more loaded than the others. Feyre and Rhysand's relationship grows even deeper, and more intense, and the interactions between the two of them are (still) quite charged and fun! And yes, for those of you wondering – there's still plenty of sex, seduction and sin in A Court of Wings and Ruin!
And what about those "ships"? Cassian/Nesta is pretty much confirmed, though the two didn't act on their feelings towards one another – despite being quite territorial when it came to other Fae interacting with the other, and nearly going out of their minds when the other was injured and/or in danger. Elain/Lucien doesn't seem to be happening – though I wouldn't rule it out quite yet – since Maas seems to be building a relationship between Elain and a different member of the Inner Circle – everyone's favourite Shadowsinger, Azriel. That being said, Maas made it quite clear Mor/Azriel won't be happening, and its the reason for this lack of a pairing that has many fans in uproar – because as More reveals to Feyre, she's a lesbian. Now, I understand that many fans of the series were very emotionally invested in the Mor/Azriel relationship, but as readers, it is important to recognize that at the end of the day, Maas has the final say on her character's decisions – including their sexuality – and the reader must respect that. Mor being a lesbian opens up a whole realm of possibilities, giving Maas the opportunity to explore the lived experiences of the LGBTQ2+ community within a fantasy setting, if she so chooses. And as a reader, I'm really excited to see Maas finally including some more diversity in her books. Now, moving on, there is one relationship that no one was talking about that I am very excited about – Amren and Varian. I think their relationship is interesting, because it highlights the possibility of cross-court relationships, and also made me happy, because it's such an innocent, true connection, at the heart of a war.
So, what about the action, betrayal, intrigue and deception? Since this book's acronym is (quite ominously) ACOWAR, and readers were promised that the earth would be painted red in the certain conflict, readers certainly expected action – and Sarah J Maas delivered on her promise by providing plenty of action through skirmishes, battles, and yes, full blown war. It begins with small skirmishes – such as Lucian and Feyre's rescue from Autumn by Cassian and Azriel. However, the action quickly increases, to a fierce battle in Adriata (the Summer Court), and eventually full-blown war as the Night Court and their allies march against Hybern's invasion. The final battle of the war, involving not only Hybern and the Courts of Prythian, but also ancient beings, humans and some long-lost friends, is a battle of epic proportions. Maas may have even one-upped the battle at the end of Empire of Storms, which was quite impressive.
Turning the attention to the betrayal, intrigue and deception portion of the story, it was evident right from the beginning that Maas had plenty of plans involving back-stabbing and secrets. With Feyre acting as a spy to gather what information she can from the Spring Court (hopefully bringing the court to its knees along the way), readers were right to expect a fair amount of clandestine behaviour and back-stabbing. Maas made sure to include plenty of deception, including some shady daemati mind tricks, out right betrayal, and some heart-breaking treachery that will leave readers reeling. Feyre quickly puts her powers to use to not only hide her intentions, but also to shield Tamlin and Lucien from Hybern's prying minions. As she works to unravel their plots and prepare her allies for the upcoming war, Feyre finds herself trapped by Hybern's twins, having fallen into a trap of deception. But the deception and betrayal hardly ends there – as Rhys puts it, in war "we don't have the luxury of good ideas – only picking between bad ones". This is proven to be true as Rhys and Feyre are continually forced to pick between bad choices, hoping against all odds that they will, somehow, work out in their favour.
Now, one thing that I really loved about A Court of Wings and Ruin were Feyre's unlikely allies – they're not a sudden solution to the problems facing Prythian (in fact, they may be a whole new problem), but their participation in the impending war and other conflicts was very rewarding and entertaining. I also liked how these unlikely allies weren't brand new, great powers invented out of thin air – Maas had made sure to introduce the majority of them earlier on in the series (like Amren's true form the Weaver, the Bone Carve and the sixth queen who wasn't ill), and this counteracted those that she didn't (the beast in the library), making these ancient powers feel less like a cop-out and more like a plausible, natural solution to being out-powered in the war. The revelation of Amren's true form was also highly rewarding!
Overall, A Court of Wings and Ruin is the type of book you'll want to read slowly, to savor it and draw it out, but it's also the type of book you won't want to put down. The story is well-paced and delivers everything dedicated readers of the series were hoping for, and then some.  Sarah J Maas lived up to the hype, delivering a story that is both engaging and heartbreaking – readers will find themselves crying, cheering, and maybe even throwing their book as they progress through the story, because Maas has once again crafted a masterpiece sure to invoke a plethora of emotions. (5/5).
Overall Verdict (4.5/5)
If you haven't read this series (which, if you just read all these reviews, despite the spoiler warning, I hope you have), you definitely need to! Maas delivers something spectacular in the Ya Fantasy Trilogy, crafting a strong, powerful female protagonist, infusing the plots with plenty of action, intrigue and romance, and still manages to engage in plenty of character development and world building (4.5/5).