These past few days, I have been thinking long and hard about what I, a white woman from Canada, have to offer to the Black Lives Matter Movement. I desperately wanted to offer my support, but was unsure how I could do so in a meaningful way. Then one night, I realized that I already had a platform – this blog, my Bookstagram, and my other social media accounts – that I could use to support and promote books written by black authors.
This post, focused on #BlackVoices in Young Adult Literature, is the third in a series of posts highlighting literature created by black authors and illustrators. It is by no means a comprehensive list of books, but I hope that it inspire readers of all ages to bring more diverse books into their own lives. This list, in comparison to my previous lists about Black Voices in Kids Literature and Middle Grade Literature, is longer, if only because this is the demographic I read most often, and I wanted to include as many of my favourite reads by black authors as possible.
I look at books as being a form of activism. Sometimes they'll show us a side of the world that we might not have known about.

– Angie Thomas, #1 New York Times Bestselling Author of The Hate U Give and On The Come Up
The Hate U Give
by Angie Thomas
Sixteen-year-old Starr Carter moves between two worlds: the poor neighborhood where she lives and the fancy suburban prep school she attends. The uneasy balance between these worlds is shattered when Starr witnesses the fatal shooting of her childhood best friend Khalil at the hands of a police officer. Khalil was unarmed. Soon afterward, his death is a national headline. Some are calling him a thug, maybe even a drug dealer and a gangbanger. Protesters are taking to the streets in Khalil's name. Some cops and the local drug lord try to intimidate Starr and her family. What everyone wants to know is: what really went down that night? And the only person alive who can answer that is Starr. But what Starr does—or does not—say could upend her community. It could also endanger her life.
---
Children of Blood and Bone
by Tomi Adeyemi
Zélie Adebola remembers when the soil of Orïsha hummed with magic. Burners ignited flames, Tiders beckoned waves, and Zélie's Reaper mother summoned forth souls. But everything changed the night magic disappeared. Under the orders of a ruthless king, maji were killed, leaving Zélie without a mother and her people without hope. Now Zélie has one chance to bring back magic and strike against the monarchy. With the help of a rogue princess, Zélie must outwit and outrun the crown prince, who is hell-bent on eradicating magic for good. Danger lurks in Orïsha, where snow leoponaires prowl and vengeful spirits wait in the waters. Yet the greatest danger may be Zélie herself as she struggles to control her powers and her growing feelings for an enemy.
---
Dear Martin
by Nic Stone
Justyce McAllister is top of his class and set for the Ivy League—but none of that matters to the police officer who just put him in handcuffs. And despite leaving his rough neighborhood behind, he can't escape the scorn of his former peers or the ridicule of his new classmates. Justyce looks to the teachings of Dr. Martin Luther King Jr. for answers. But do they hold up anymore? He starts a journal to Dr. King to find out.
Then comes the day Justyce goes driving with his best friend, Manny, windows rolled down, music turned up—way up, sparking the fury of a white off-duty cop beside them. Words fly. Shots are fired. Justyce and Manny are caught in the crosshairs. In the media fallout, it's Justyce who is under attack.
---
The Black Flamingo
by Dean Atta
Michael is a mixed-race gay teen growing up in London. All his life, he's navigated what it means to be Greek-Cypriot and Jamaican–but never quite feeling Greek or Black enough.
As he gets older, Michael's coming out is only the start of learning who he is and where he fits in. When he discovers the Drag Society, he finally finds where he belongs–and the Black Flamingo is born.
Told with raw honesty, insight, and lyricism, this debut explores the layers of identity that make us who we are – and allow us to shine.
---
The Poet X
by Elizabeth Acevedo
Xiomara Batista feels unheard and unable to hide in her Harlem neighborhood. Ever since her body grew into curves, she has learned to let her fists and her fierceness do the talking. But Xiomara has plenty she wants to say, and she pours all her frustration and passion onto the pages of a leather notebook, reciting the words to herself like prayers—especially after she catches feelings for a boy in her bio class named Aman, who her family can never know about. With Mami's determination to force her daughter to obey the laws of the church, Xiomara understands that her thoughts are best kept to herself. So when she is invited to join her school's slam poetry club, she doesn't know how she could ever attend without her mami finding out, much less speak her words out loud. But still, she can't stop thinking about performing her poems. Because in the face of a world that may not want to hear her, Xiomara refuses to be silent.
---
Opposite of Always
by Justin A. Reynolds
When Jack and Kate meet at a party, bonding until sunrise over their mutual love of Froot Loops and their favorite flicks, Jack knows he's falling—hard. Soon she's meeting his best friends, Jillian and Franny, and Kate wins them over as easily as she did Jack. But then Kate dies. And their story should end there. Yet Kate's death sends Jack back to the beginning, the moment they first meet, and Kate's there again. Healthy, happy, and charming as ever. Jack isn't sure if he's losing his mind. Still, if he has a chance to prevent Kate's death, he'll take it. Even if that means believing in time travel. However, Jack will learn that his actions are not without consequences. And when one choice turns deadly for someone else close to him, he has to figure out what he's willing to do to save the people he loves.
---
Let Me Hear a Rhyme
by Tiffany D. Jackson
Brooklyn, 1998. Biggie Smalls was right: Things done changed. But that doesn't mean that Quadir and Jarrell are cool letting their best friend Steph's music lie forgotten under his bed after he's murdered—not when his rhymes could turn any Bed Stuy corner into a party. With the help of Steph's younger sister Jasmine, they come up with a plan to promote Steph's music under a new rap name: the Architect. Soon, everyone wants a piece of him. When his demo catches the attention of a hotheaded music label rep, the trio must prove Steph's talent from beyond the grave. As the pressure of keeping their secret grows, Quadir, Jarrell, and Jasmine are forced to confront the truth about what happened to Steph. Only, each has something to hide. And with everything riding on Steph's fame, they need to decide what they stand for or lose all that they've worked so hard to hold on to—including each other.
---
Stamped: Racism, Antiracism, and You
by Jason Reynolds and Ibram X. Kendi
A timely, crucial, and empowering exploration of racism–and antiracism–in America. This is NOT a history book. This is a book about the here and now. A book to help us better understand why we are where we are. A book about race. The construct of race has always been used to gain and keep power, to create dynamics that separate and silence. This remarkable reimagining of Dr. Ibram X. Kendi's National Book Award-winning Stamped from the Beginning reveals the history of racist ideas in America, and inspires hope for an antiracist future. It takes you on a race journey from then to now, shows you why we feel how we feel, and why the poison of racism lingers. It also proves that while racist ideas have always been easy to fabricate and distribute, they can also be discredited.Through a gripping, fast-paced, and energizing narrative written by beloved award-winner Jason Reynolds, this book shines a light on the many insidious forms of racist ideas–and on ways readers can identify and stamp out racist thoughts in their daily lives.
---
Slay
by Brittney Morris
By day, seventeen-year-old Kiera Johnson is an honors student, a math tutor, and one of the only Black kids at Jefferson Academy. But at home, she joins hundreds of thousands of Black gamers who duel worldwide as Nubian personas in the secret multiplayer online role-playing card game, SLAY. No one knows Kiera is the game developer, not her friends, her family, not even her boyfriend, Malcolm, who believes video games are partially responsible for the "downfall of the Black man." But when a teen in Kansas City is murdered over a dispute in the SLAY world, news of the game reaches mainstream media, and SLAY is labeled a racist, exclusionist, violent hub for thugs and criminals. Even worse, an anonymous troll infiltrates the game, threatening to sue Kiera for "anti-white discrimination." Driven to save the only world in which she can be herself, Kiera must preserve her secret identity and harness what it means to be unapologetically Black in a world intimidated by Blackness. But can she protect her game without losing herself in the process?
---
Dear Haiti, Love Alaine
by Maika Moulite and Maritza Moulite
You might ask the obvious question: What do I, a seventeen-year-old Haitian American from Miami with way too little life experience, have to say about anything? Actually, a lot. Thanks to "the incident" (don't ask), I'm spending the next two months doing what my school is calling a "spring volunteer immersion project." It's definitely no vacation. I'm toiling away under the ever-watchful eyes of Tati Estelle at her new nonprofit. And my lean-in queen of a mother is even here to make sure I do things right. Or she might just be lying low to dodge the media sharks after a much more public incident of her own…and to hide a rather devastating secret. All things considered, there are some pretty nice perks…like flirting with Tati's distractedly cute intern, getting actual face time with my mom and experiencing Haiti for the first time. I'm even exploring my family's history—which happens to be loaded with betrayals, superstitions and possibly even a family curse.
---
Tyler Johnson Was Here
by Jay Coles
When Marvin Johnson's twin, Tyler, goes to a party, Marvin decides to tag along to keep an eye on his brother.
But what starts as harmless fun turns into a shooting, followed by a police raid.
The next day, Tyler has gone missing, and it's up to Marvin to find him. But when Tyler is found dead, a video leaked online tells an even more chilling story: Tyler has been shot and killed by a police officer. Terrified as his mother unravels and mourning a brother who is now a hashtag, Marvin must learn what justice and freedom really mean.
---
Felix Ever After
by Kacen Callender
Felix Love has never been in love – and, yes, he's painfully aware of the irony. He desperately wants to know what it's like and why it seems so easy for everyone but him to find someone. What's worse is that, even though he is proud of his identity, Felix also secretly fears that he's one marginalization too many – Black, queer, and transgender – to ever get his own happily-ever-after. When an anonymous student begins sending him transphobic messages – after publicly posting Felix's deadname alongside images of him before he transitioned – Felix comes up with a plan for revenge. What he didn't count on: his catfish scenario landing him in a quasi-love triangle… But as he navigates his complicated feelings, Felix begins a journey of questioning and self-discovery that helps redefine his most important relationship: how he feels about himself.
---
Say Her Name
by Zetta Elliott
Inspired by the #SayHerName campaign launched by the African American Policy Forum, these poems pay tribute to victims of police brutality as well as the activists insisting that Black Lives Matter. Elliott engages poets from the past two centuries to create a chorus of voices celebrating the creativity, resilience, and courage of Black women and girls.

This collection features forty-nine powerful poems, four of which are tribute poems inspired by the works of Lucille Clifton, Audre Lorde, Nikki Giovanni, and Phillis Wheatley. This provocative collection will move every reader to reflect, respond-and act.
---
A Song of Wraiths and Ruin
by Roseanne A. Brown
For Malik, the Solstasia festival is a chance to escape his war-stricken home and start a new life with his sisters in the prosperous desert city of Ziran. But when a vengeful spirit abducts his younger sister, Nadia, as payment to enter the city, Malik strikes a fatal deal–kill Karina, Crown Princess of Ziran, for Nadia's freedom. But Karina has deadly aspirations of her own. Her mother, the Sultana, has been assassinated; her court threatens mutiny; and Solstasia looms like a knife over her neck. Grief-stricken, Karina decides to resurrect her mother through ancient magic . . . requiring the beating heart of a king. And she knows just how to obtain one: by offering her hand in marriage to the victor of the Solstasia competition. When Malik rigs his way into the contest, they are set on a heart-pounding course to destroy each other. But as attraction flares between them and ancient evils stir, will they be able to see their tasks to the death?
---
Riot Baby
by Tochi Onyebochi
Ella has a Thing. She sees a classmate grow up to become a caring nurse. A neighbor's son murdered in a drive-by shooting. Things that haven't happened yet. Kev, born while Los Angeles burned around them, wants to protect his sister from a power that could destroy her. But when Kev is incarcerated, Ella must decide what it means to watch her brother suffer while holding the ability to wreck cities in her hands.
Rooted in the hope that can live in anger, Riot Baby is as much an intimate family story as a global dystopian narrative. It burns fearlessly toward revolution and has quietly devastating things to say about love, fury, and the black American experience.
---
The Sound of Stars
by Alechia Dow
Two years ago, a misunderstanding between the leaders of Earth and the invading Ilori resulted in the deaths of one-third of the world's population.Today, seventeen-year-old Ellie Baker survives in an Ilori-controlled center in New York City. With humans deemed dangerously volatile because of their initial reaction to the invasion, emotional expression can be grounds for execution. Music, art and books are illegal, but Ellie still keeps a secret library.When young Ilori commander M0Rr1S finds Ellie's library, he's duty-bound to deliver her for execution. The trouble is, he finds himself drawn to human music and in desperate need of more.Humanity's fate rests in the hands of an alien Ellie should fear, but M0Rr1S has a potential solution–thousands of miles away. The two embark on a wild and dangerous journey with a bag of books and their favorite albums, all the while creating a story and a song of their own that just might save them both.
---
You Should See Me In A Crown
by Leah Johnson
Liz Lighty has always believed she's too black, too poor, too awkward to shine in her small, rich, prom-obsessed midwestern town. But it's okay — Liz has a plan that will get her out of Campbell, Indiana, forever: attend the uber-elite Pennington College, play in their world-famous orchestra, and become a doctor. But when the financial aid she was counting on unexpectedly falls through, Liz's plans come crashing down . . . until she's reminded of her school's scholarship for prom king and queen. There's nothing Liz wants to do less than endure a gauntlet of social media trolls, catty competitors, and humiliating public events, but despite her devastating fear of the spotlight she's willing to do whatever it takes to get to Pennington. The only thing that makes it halfway bearable is the new girl in school, Mack. She's smart, funny, and just as much of an outsider as Liz. But Mack is also in the running for queen. Will falling for the competition keep Liz from her dreams . . . or make them come true?
---
A Field Guide to the North American Teenager
by Ben Philippe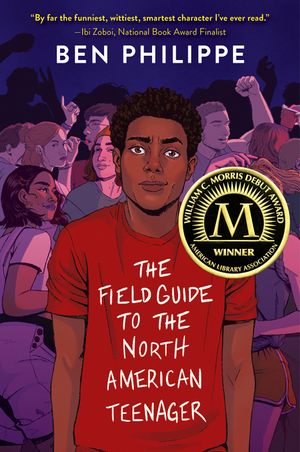 Norris Kaplan is clever, cynical, and quite possibly too smart for his own good. A Black French Canadian, he knows from watching American sitcoms that those three things don't bode well when you are moving to Austin, Texas. Plunked into a new high school and sweating a ridiculous amount from the oppressive Texas heat, Norris finds himself cataloging everyone he meets: the Cheerleaders, the Jocks, the Loners, and even the Manic Pixie Dream Girl. Making a ton of friends has never been a priority for him, and this way he can at least amuse himself until it's time to go back to Canada, where he belongs. Yet against all odds, those labels soon become actual people to Norris…like loner Liam, who makes it his mission to befriend Norris, or Madison the beta cheerleader, who is so nice that it has to be a trap. Not to mention Aarti the Manic Pixie Dream Girl, who might, in fact, be a real love interest in the making. But the night of the prom, Norris screws everything up royally. As he tries to pick up the pieces, he realizes it might be time to stop hiding behind his snarky opinions and start living his life—along with the people who have found their way into his heart.
---
A Song Below Water
by Bethany C. Morrow
In a society determined to keep her under lock and key, Tavia must hide her siren powers. Meanwhile, Effie is fighting her own family struggles, pitted against literal demons from her past. Together, these best friends must navigate through the perils of high school's junior year.
But everything changes in the aftermath of a siren murder trial that rocks the nation, and Tavia accidentally lets out her magical voice at the worst possible moment. Soon, nothing in Portland, Oregon, seems safe. To save themselves from drowning, it's only Tavia and Effie's unbreakable sisterhood that proves to be the strongest magic of all.
---
Black Girl Unlimited: The Remarkable Story of a Teenage Wizard
by Echo Brown
Echo Brown is a wizard from the East Side, where apartments are small and parents suffer addictions to the white rocks. Yet there is magic . . . everywhere. New portals begin to open when Echo transfers to the rich school on the West Side, and an insightful teacher becomes a pivotal mentor.
Each day, Echo travels between two worlds, leaving her brothers, her friends, and a piece of herself behind on the East Side. There are dangers to leaving behind the place that made you. Echo soon realizes there is pain flowing through everyone around her, and a black veil of depression threatens to undo everything she's worked for.
---
As I said before, this is by no means an extensive list of Young Adult books penned by black authors, but I do hope that it will give teens a place to start, and inspire readers of all ages to bring more diverse books into their own lives. For those among you looking for more Young Adult books written by black authors, I also recommend checking out the following websites, which feature far more comprehensive and diverse lists than the short list I have compiled here!
"Yeah, there are no more "colored" water fountains, and it's supposed to be illegal to discriminate, but if I can be forced to sit on the concrete in too-tight cuffs when I've done nothing wrong, it's clear there's an issue. That things aren't as equal as folks say they are."

– Nic Stone in Dear Martin, New York Times best-selling author of Young Adult and Middle Grade Fiction, best known for her debut novel Dear Martin and her Middle Grade debut, Clean Getaway.