These past few days, I have been thinking long and hard about what I, a white woman from Canada, have to offer to the Black Lives Matter Movement. I desperately wanted to offer my support, but was unsure how I could do so in a meaningful way. Then one night, I realized that I already had a platform – this blog, my Bookstagram, and my other social media accounts – that I could use to support and promote books written by black authors.
This post, focused on #BlackVoices in Middle Grade Literature, is the second in a series of posts highlighting literature created by black authors and illustrators. It is by no means a comprehensive list of books, but I hope that it will give readers a place to start, and inspire readers of all ages to bring more diverse books into their own lives.
"It's important to have diverse characters in books because books give kids mirrors and windows. Books create empathy. If we don't have diversity, if we're only showing things from one perspective, how are we creating empathy? It's important beyond just children's books — it's important period. I think that the more diversity we have in books the better. Give kids options. Who wants the same thing over and over? Let's show other lives. Let's show other perspectives and other marginalizations. It goes a long way in creating empathy."

– Angie Thomas, author of The Hate U Give and On The Come Up
Blended
by Sharon Draper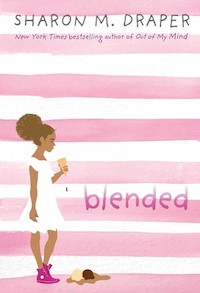 After her parents' divorce, 11-year-old Isabella feels divided. She splits her time between her parents' houses. Her black father's home, where he lives with his girlfriend and her son, is fancy—and they're one of the only black families in the neighborhood. Her mom lives with her boyfriend in a house that's small and not as fancy. Isabella doesn't just switch lives every week but also identities. Her dad is black, her mom white, and Isabella is constantly peppered with questions about her racial identity. As her parents' fights worsen, and the two get engaged at the same time, Isabella's family seems like it will never be whole again. And neither will Isabella.
---
Genesis Begins Again
by Alicia D. Williams
Genesis hates many things about herself. Like that her skin is so dark that her family members and classmates call her names. Like that her father gambles away their rent so often that they're regularly evicted. When Genesis and her mom find themselves with nowhere to go, they head to her grandmother's house, where her mom and grandma fight all the time. Grandma wants Mom to leave her father and thinks she should have married a light skinned man to begin with. Despite this, Genesis is liking her new school, making some new friends, and the choir teacher thinks Genesis is talented enough to perform in the talent show. But neither the citrus fruits nor the lightening creams are working, so how can Genesis believe anyone else likes her or believes in her with her dark skin when her own family doesn't seem to?
---
A Good Kind of Trouble
by Lisa Moore Ramee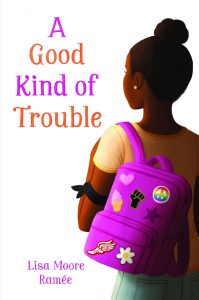 Twelve-year-old Shayla only wants to follow the rules. But now in middle school, she's no longer sure what the rules are. Not with her friends and not with her classmates. Her sister's involved in Black Lives Matter, which Shayla doesn't think is for her. But after a protest, Shayla decides some rules are okay to break, and she starts wearing an armband to school in support of BLM. The principal announces that the armbands aren't allowed, and Shayla's given an ultimatum. Though Shayla's always tried to avoid trouble, she might be in even more trouble if she can't face her fear and do what she knows is right, even if someone else has decided it's wrong.
---
Tristan Strong Punches a Hole in the Sky
by Kwame Mbalia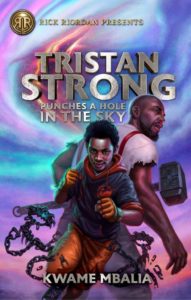 Sent to Alabama to recover from an accident that killed his best friend, 7th grader Tristan Strong hasn't felt very strong in a long time. On his first night in Alabama, a creature comes into his bedroom and steals his lost friend's journal, and Tristan has no choice but to follow. In the chaos that ensues, Tristan punches a tree, inadvertently opening a chasm into the Midpass, a land of burning ships and volatile creatures hunting the people of our world. In Midpass, Tristan finds himself in the center of a battle that has worn down its warriors, Black folk heroes John Henry and Brer Rabbit. To close the opening to Midpass, Tristan and his new allies will have to seek out Anansi the Weaver and find a way to barter with the trickster that won't mean Tristan losing everything else he loves.
---
Betty Before X
by Ilyasha Shabazz and Renee Watson
In Detroit, 1945, eleven-year-old Betty's house doesn't quite feel like home. She believes her mother loves her, but she can't shake the feeling that her mother doesn't want her. Church helps those worries fade, if only for a little while. The singing, the preaching, the speeches from guest activists like Paul Robeson and Thurgood Marshall stir African Americans in her community to stand up for their rights. Betty quickly finds confidence and purpose in volunteering for the Housewives League, an organization that supports black-owned businesses. Soon, the American civil rights icon we now know as Dr. Betty Shabazz is born.
---
Ghost
by Jason Reynolds
Running. That's all Ghost (real name Castle Cranshaw) has ever known. But Ghost has been running for the wrong reasons—it all started with running away from his father, who, when Ghost was a very little boy, chased him and his mother through their apartment, then down the street, with a loaded gun, aiming to kill.
Since then, Ghost has been the one causing problems—and running away from them—until he meets Coach, an ex-Olympic Medalist who sees something in Ghost: crazy natural talent. If Ghost can stay on track, literally and figuratively, he could be the best sprinter in the city. Can Ghost harness his raw talent for speed, or will his past finally catch up to him?
---
My Life as an Ice Cream Sandwich
by Ibi Zoboi
Twelve-year-old Ebony-Grace Norfleet has lived with her beloved grandfather Jeremiah in Huntsville, Alabama ever since she was little. As one of the first black engineers to integrate NASA, Jeremiah has nurtured Ebony-Grace's love for all things outer space and science fiction—especially Star Wars and Star Trek. But in the summer of 1984, when trouble arises with Jeremiah, it's decided she'll spend a few weeks with her father in Harlem. Harlem is an exciting and terrifying place for a sheltered girl from Hunstville, and Ebony-Grace's first instinct is to retreat into her imagination. But soon 126th Street begins to reveal that it has more in common with her beloved sci-fi adventures than she ever thought possible, and by summer's end, Ebony-Grace discovers that Harlem has a place for a girl whose eyes are always on the stars.
---
The Crossover
by Kwame Alexander
With a bolt of lightning on my kicks . . .The court is SIZZLING. My sweat is DRIZZLING. Stop all that quivering. Cuz tonight I'm delivering," announces dread-locked, 12-year old Josh Bell. He and his twin brother Jordan are awesome on the court. But Josh has more than basketball in his blood, he's got mad beats, too, that tell his family's story in verse, in this fast and furious middle grade novel of family and brotherhood from Kwame Alexander.
Josh and Jordan must come to grips with growing up on and off the court to realize breaking the rules comes at a terrible price, as their story's heart-stopping climax proves a game-changer for the entire family.
---
For Black Girls Like Me
by Mariama J. Lockington
Makeda June Kirkland is eleven years old, adopted, and black. Her parents and big sister are white, and even though she loves her family very much, Makeda often feels left out. When Makeda's family moves from Maryland to New Mexico, she leaves behind her best friend, Lena— the only other adopted black girl she knows— for a new life. In New Mexico, everything is different. At home, Makeda's sister is too cool to hang out with her anymore and at school, she can't seem to find one real friend.
Through it all, Makeda can't help but wonder: What would it feel like to grow up with a family that looks like me? Through singing, dreaming, and writing secret messages back and forth with Lena, Makeda might just carve a small place for herself in the world.
---
Dough Boys
by Paula Chase
Deontae "Simp" Wright has big plans for his future. Plans that involve basketball, his best friend, Rollie, and making enough money to get his mom and four younger brothers out of the Cove, their low-income housing project.
Long term, this means the NBA. Short term, it means being a dough boy—getting paid to play lookout and eventually moving up the rungs of the neighborhood drug operation with Rollie as his partner.
Roland "Rollie" Matthews used to love playing basketball. He loved the rhythm of the game, how he came up with his best drumbeats after running up and down the court. But playing with the elite team comes with extra, illegal responsibilities, and Rollie isn't sure he's down for that life. The new talented-and-gifted program, where Rollie has a chance to audition for a real-life go-go band, seems like the perfect excuse to stop being a dough boy. But how can he abandon his best friend?
---
As I said before, this is by no means an extensive list of Middle Grade Books penned by black authors, but I do hope that it will give readers a place to start, and inspire readers of all ages to bring more diverse books into their own lives. For those among you looking for more Middle Grade Books written by black authors, I also recommend checking out the following websites, which feature far more comprehensive and diverse lists than the short list I have compiled here! Many local libraries and booksellers have also begun compiling and sharing lists similar to these, so I also recommend checking out your local library's website and black booksellers!
Be not afraid of discomfort. If you can't put yourself in a situation where you are uncomfortable, then you will never grow. You will never change. You'll never learn.

– Jason Reynolds, New York Times best-selling author of All American Boys, the Track series, Long Way Down, For Everyone, and Miles Morales-Spiderman.