These past few days, I have been thinking long and hard about what I, a white woman from Canada, have to offer to the Black Lives Matter Movement. I desperately wanted to offer my support, but was unsure how I could do so in a meaningful way. Then one night, I realized that I already had a platform – this blog, my Bookstagram, and my other social media accounts – that I could use to support and promote books written by black authors.
This post, focused on #BlackVoices in Kids Literature, is the first in a series of posts highlighting literature created by black authors and illustrators. It is by no means a comprehensive list of books, but I hope that it will give readers a place to start, and inspire readers of all ages to bring more diverse books into their own lives.
"Research from Harvard University suggests that children as young as three years old, when exposed to racism and prejudice, tend to embrace and accept it, even though they might not understand the feelings. By age 5, white children are strongly biased towards whiteness. To counter this bias, experts recommend acknowledging and naming race and racism with children as early and as often as possible. Children's books are one of the most effective and practical tools for initiating these critical conversations; and they can also be used to model what it means to resist and dismantle oppression.​"

– Embrace Race (2020)
Malcolm Little: The Boy Who Grew Up to Become Malcolm X
by Ilyasah Shabazz, illustrated by AG Ford
Malcolm X grew to be one of America's most influential figures. But first, he was a boy named Malcolm Little. Written by his daughter, this inspiring picture book biography celebrates a vision of freedom and justice. Bolstered by the love and wisdom of his large, warm family, young Malcolm Little was a natural born leader. But when confronted with intolerance and a series of tragedies, Malcolm's optimism and faith were threatened. He had to learn how to be strong and how to hold on to his individuality. He had to learn self-reliance. Ilyasah Shabazz gives us a unique glimpse into the childhood of her father, Malcolm X, with a lyrical story that carries a message that resonates still today — that we must all strive to live to our highest potential.
---
The Day You Begin
by Jacqueline Woodson, illustrated by Rafael López
A heartening book about finding courage to connect, even when you feel scared and alone. There will be times when you walk into a room and no one there is quite like you. There are many reasons to feel different. Maybe it's how you look or talk, or where you're from; maybe it's what you eat, or something just as random. It's not easy to take those first steps into a place where nobody really knows you yet, but somehow you do it. Jacqueline Woodson's lyrical text and Rafael López's dazzling art reminds us that we all feel like outsiders sometimes-and how brave it is that we go forth anyway. And that sometimes, when we reach out and begin to share our stories, others will be happy to meet us halfway.
---
Something Happened in Our Town
by Marianne Celano, Marietta Collins, and Ann Hazzard, illustrated by Jennifer Zivoin ​
Something Happened in Our Town follows two families — one white, one Black — as they discuss a police shooting of a Black man in their community. The story aims to answer children's questions about such traumatic events, and to help children identify and counter racial injustice in their own lives. Includes an extensive Note to Parents and Caregivers with guidelines for discussing race and racism with children, child-friendly definitions, and sample dialogues.
---
Little Leaders: Bold Women in Black History
by Vashti Harrison
An important book for all ages, Little Leaders educates and inspires as it relates true stories of forty trailblazing Black women in American history. Illuminating text paired with irresistible illustrations bring to life both iconic and lesser-known female figures of Black history such as abolitionist Sojourner Truth, pilot Bessie Coleman, chemist Alice Ball, politician Shirley Chisholm, mathematician Katherine Johnson, poet Maya Angelou, and filmmaker Julie Dash. Among these biographies, readers will find heroes, role models, and everyday women who did extraordinary things — bold women whose actions and beliefs contributed to making the world better for generations of girls and women to come. Whether they were putting pen to paper, soaring through the air or speaking up for the rights of others, the women profiled in these pages were all taking a stand against a world that didn't always accept them. The leaders in this book may be little, but they all did something big and amazing, inspiring generations to come.
---
Mixed Me!
by Taye Diggs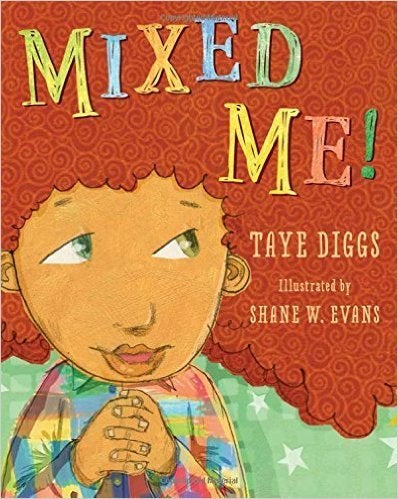 Mom and Dad say I'm a blend of dark and light: "We mixed you perfectly, and got you just right."Mike has awesome hair. He has LOTS of energy! His parents love him. And Mike is a PERFECT blend of the two of them. Still, Mike has to answer LOTS of questions about being mixed. And he does, with LOTS of energy and joy in this charming story about a day in the life of a mixed-race child.
"For the millions of mixed-race Americans who have to endure the constant questioning of their identity, [Mike] has an answer: "I'm a beautiful blend of dark and light, / I was mixed up perfectly, / and I'm JUST RIGHT!" . . . The story's joyful message will resonate with multiracial readers and their families, leaving them with the cheeky takeaway: if you have a problem with me, it's your problem." —Booklist
---
Hair Love
by Matthew A. Cherry, illustrated by Vashti Harrison
Zuri's hair has a mind of its own. It kinks, coils, and curls every which way. Zuri knows it's beautiful. When Daddy steps in to style it for an extra special occasion, he has a lot to learn. But he LOVES his Zuri, and he'll do anything to make her — and her hair — happy. Tender and empowering, Hair Love is an ode to loving your natural hair — and a celebration of daddies and daughters everywhere.
"I love that Hair Love is highlighting the relationship between a Black father and daughter. Matthew leads the ranks of new creatives who are telling unique stories of the Black experience. We need this." – Jordan Peele, Actor & Filmmaker
---
Sulwe
by Lupita Nyong'o, illustrated by Vashti Harrison
From Academy Award–winning actress Lupita Nyong'o comes a powerful, moving picture book about colorism, self-esteem, and learning that true beauty comes from within.
Sulwe has skin the color of midnight. She is darker than everyone in her family. She is darker than anyone in her school. Sulwe just wants to be beautiful and bright, like her mother and sister. Then a magical journey in the night sky opens her eyes and changes everything.
In this stunning debut picture book, actress Lupita Nyong'o creates a whimsical and heartwarming story to inspire children to see their own unique beauty.
---
Hair Like Mine
by LaTashia M. Perry, illustrated by Bea Jackson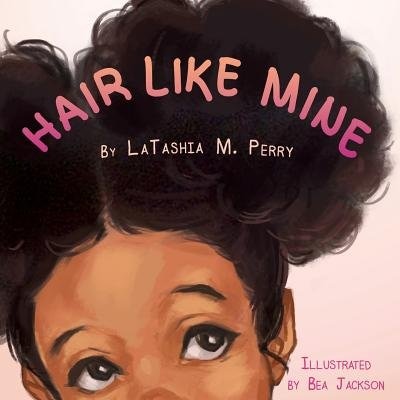 Hair Like Mine is the first book in the Kids Like Mine Series. It is a fun and easy read following a little girl who doesn't like that her naturally curly hair looks different from the other kids around her. On her quest to find someone with hair like hers, she soon realizes we are all unique and special in our own way.
"How you were born doesn't need to be altered to make everyone around you comfortable. You were born beautiful just as you are." – LaTashia M. Perry
---
Antiracist Baby
by Ibram X. Kendi, illustrated by Ashley Lukashevsky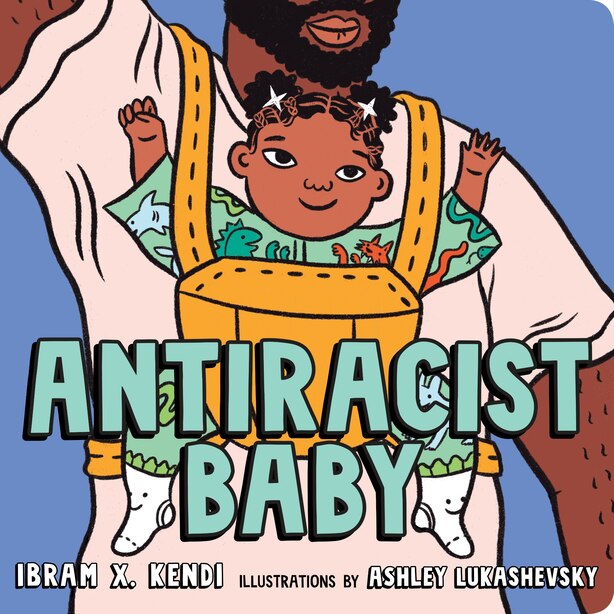 From the National Book Award-winning author of Stamped from the Beginning and How to Be an Antiracist comes a fresh new board book that empowers parents and children to uproot racism in our society and in ourselves.
Take your first steps with Antiracist Baby! Or rather, follow Antiracist Baby's nine easy steps for building a more equitable world. With bold art and thoughtful yet playful text, Antiracist Baby introduces the youngest readers and the grown-ups in their lives to the concept and power of antiracism. Providing the language necessary to begin critical conversations at the earliest age, Antiracist Baby is the perfect gift for readers of all ages dedicated to forming a just society.
---
I Love My Hair!
by Natasha Anastasia Tarpley, illustrated by E.B. Lewis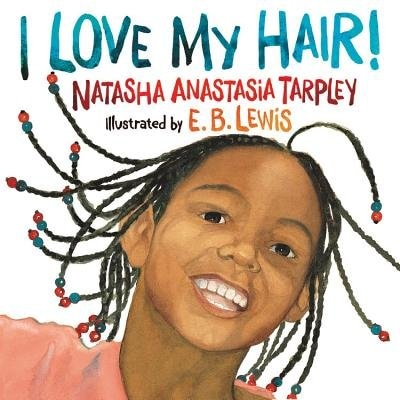 I Love My Hair by Natasha Anastasia Tarpley, illustrated by E.B. Lewis, is a modern classic! This whimsical story has been celebrating the beauty of African-American hair for 20 years!
In this imaginative, evocative story, a girl named Keyana discovers the beauty and magic of her special hair, encouraging black children to be proud of their heritage and enhancing self-confidence. I Love My Hair! has been a staple in African-American picture books for 20 years, and now has a fresh, updated cover that shines on the shelves!
---
As I said before, this is by no means an extensive list of Kids Lit books penned by black authors, but I do hope that it will give parents a place to start, and inspire readers of all ages to bring more diverse books into their own lives. For those among you looking for for Kids Lit books written by black authors, I also recommend checking out the following websites, which feature far more comprehensive and diverse lists than the short list I have compiled here!
"When kids grow up not seeing themselves in books they grow up feeling like they don't matter."

– Eric Smith, author and associate literary agent at PS Literary