Courting Darkness by Robin LaFevers is the first in a new duology, set to release in North America on February 5, 2019. This darkly thrilling page-turner is set in the world of the best-selling His Fair Assassin series (also written by LaFevers), and is written with the same prowess and intrigue that LaFevers has brought to her previous novels.
DISCLAIMER: I received an Advance Review Copy of this book from Raincoast Books in exchange for an honest review.
Sybella has always been the darkest of Death's daughters, trained at the convent of Saint Mortain to serve as his justice. But she has a new mission now. In a desperate bid to keep her two youngest sisters safe from the family that nearly destroyed them all, she agrees to accompany the duchess to France, where they quickly find themselves surrounded by enemies. Their one ray of hope is Sybella's fellow novitiates, disguised and hidden deep in the French court years ago by the convent—provided Sybella can find them. Genevieve has been undercover for so many years, she struggles to remember who she is or what she's supposed to be fighting for. Her only solace is a hidden prisoner who appears all but forgotten by his guards. When tragedy strikes, she has no choice but to take matters into her own hands—even if it means ignoring the long awaited orders from the convent. As Sybella and Gen's paths draw ever closer, the fate of everything they hold sacred rests on a knife's edge. Will they find each other in time, or will their worlds collide, destroying everything they care about?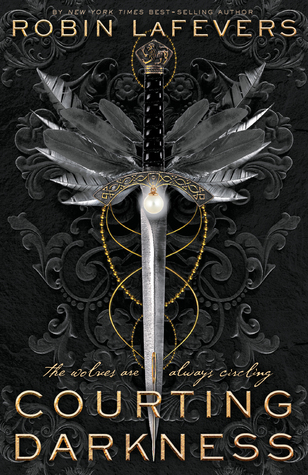 I was a huge fan of the His Fair Assassin trilogy, so when I learned that there was going to be a spinoff duology, I knew I would be diving back into the dark and beautiful world LaFevers had created. Courting Darkness picks up after the events from Mortal Heart and heavily features both Sybella and Beast, in addition to a newly introduced assassin nun, Genevieve, who has been hidden deep within the French court for years. The story that unfurls as Sybelle and Genevieve's paths draw ever nearer in tangled, dangerous, and intoxicating – sure to leave readers wanting more.
Courting Darkness is told through the alternating perspectives of Sybella and Genevieve. Both are daughters of Mortain, though after the events at the end of Mortal Heart, it is evident that this may no longer mean what it once did. Sybella, for her part remains as fierce and loyal as ever, steadfastly defending those she cares about – even if it puts her in harm's way. She is also grappling with the dark horrors of her past – a past which refuses to stay in the past – and this struggle makes her character painfully human. This allows the reader to empathize with her choices and emotions on a very visceral level, while also portraying a powerful message of strength and resiliency in the face of adversity. Genevieve, for her part, is an intriguing addition to the convent of assassin nuns – even if she has been away from the convent for so long that she has begun to question her mission. It was her character development that struck me most. In the beginning, she lacked self-assurance and independence. Yet as she broke free of the bonds holding her, and began to make her own decisions (for better or for worse), she grew as an individual, her confidence and strength reflecting that of her assassin sisters. Overall, I thoroughly enjoyed both perspectives for various reasons – whether it be their individuality, strength of narrative, or the character development.
As one might expect of the YA Fantasy genre, Courting Darkness is not without its romances – though LaFevers has certainly proven herself a master of the heartfelt, slow-burn romance. This time, however, readers will get to enjoy Sybella and Beast's pre-established relationship, which provides a nice parallel to the slow-burning and devious relationship that grows between Genevieve and Maraud. Both Genevieve and Maraud are clearly keeping secrets from each other, but the chemistry between their two characters is undeniable, and their dance around one another is quite enthralling. So if you're a fan of strong relationships and slow-burning passion, the romance in Courting Darkness will certainly be for you!
In regards to the plot, it is undoubtedly the one section of this tale that fell short for me. While the characters are powerful, and the romances enthralling, the plot was just … okay. Not bad, but certainly not the most memorable story I have read in recent months. This is perhaps because there wasn't a truly well defined plot – instead, Courting Darkness felt more like a prequel to the plot we'll see in the sequel, putting all the players in motion without really moving forward. This being said, it is evident that Courting Darkness did not have a fast-paced story – instead, it featured a rather politically-influenced mind game, interspersed with enough bloody encounters to keep the reader engaged. Overall, the story pacing was a bit slow at times, but not overly so, and it felt like it was more of a reintroduction to the world and characters, with a focus on setting up the world for the events of the anticipated sequel.
In conclusion, Courting Darkness by Robin LaFevers is a strong spin-off to LaFevers His Fair Assassins series. With strong female characters that will leave readers feeling empowered, and swoon-worthy romances, Courting Darkness is sure to enrapture readers, despite a slow-paced plot (4/5).