Released in North America on January 8, 2019, The Field Guide to the North American Teenager by Ben Philippe is a hilarious contemporary realistic YA debut novel about a rather cynical Black French Canadian teen who moves to Austin, Texas, and experiences the clichés and joys of the American high school experience—including falling in love.
What's more? The Field Guide to the North American Teenager is so awesome that it was selected as the Indigo Teen Staff Pick of the Month for January 2019! You can check out the The Field Guide to the North American Teenager and other Indigo Teen SPOTM's on Indigo's website.
DISCLAIMER: I received a complimentary copy of he Field Guide to the North American Teenager by Ben Philippe from Indigo Books & Music Inc. in exchange for an honest review. 
Norris Kaplan is clever, cynical, and quite possibly too smart for his own good. A black French Canadian, he knows from watching American sitcoms that those three things don't bode well when you are moving to Austin, Texas. Plunked into a new high school and sweating a ridiculous amount from the oppressive Texas heat, Norris finds himself cataloging everyone he meets: the Cheerleaders, the Jocks, the Loners, and even the Manic Pixie Dream Girl. Making a ton of friends has never been a priority for him, and this way he can at least amuse himself until it's time to go back to Canada, where he belongs. Yet, against all odds, those labels soon become actual people to Norris. Be it loner Liam, who makes it his mission to befriend Norris, or Madison the beta cheerleader, who is so nice that it has to be a trap. Not to mention Aarti the Manic Pixie Dream Girl, who might, in fact, be a real love interest in the making. He even starts playing actual hockey with these Texans. But the night of the prom, Norris screws everything up royally. As he tries to pick up the pieces, he realizes it might be time to stop hiding behind his snarky opinions and start living his life—along with the people who have found their way into his heart.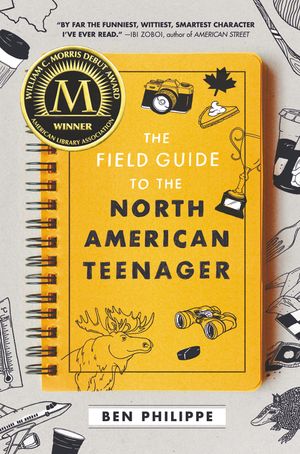 Young Adult/Teen Contemporaries have always been hit-or-miss for me, but it is safe to say that The Field Guide to the North American Teenager by Ben Philippe was undoubtedly a hit! While reading this funny and honest little novel I couldn't help but fall in love with the characters, the setting, and Philippe's quirky writing style.
From Norris, to Madison, to Aarti and Liam, each character in this novel had their own personality, a well-developed story (along with a personality and motivations), and a, independent story line. Norris, as the main protagonist, undergoes quite the culture-shock when moving from Montreal to Texas, and I was quite intrigued by his development from a reluctant, narcissistic recluse to an optimistic, comedic individual throughout this novel. In regards to Madison, Aarti and Liam, they really presented like real teens; their stories weren't dependent upon each others' actions – though they certainly influenced one another. Overall, the characters were endearingly human and real, and readers will be enthralled by their experiences.
One aspect I really enjoyed was how Philippe presented the reader with all the stereotypes you'd expect to find in a typical American high school setting – from cheerleaders, to jocks, to nerds and goths. This is highlighted when the guidance counselor gives Norris a notebook to record his observations. He treats it like a little guide book where he writes down his findings about various highs chool tropes and stereotypes – until suddenly he realizes that his new environment isn't what he first expected it to be. In examining the human aspect of the setting so intently, Philippe really hit home with the very important rule of not judging things and people solely based on appearance, because they will surprise you – and sometimes in the best way possible.
That being said, this was one of those contemporary books that really made me feel "old". I still very much consider myself to be a Young Adult, and generally identify more firmly with the experiences of YA characters than those in typical Adult books, but this book really highlighted for me that I have been out of high school for several years. While there were definite similarities to my own highschool experiences, I have become so far removed from that time in my life that I could not truly relate to the characters' experiences. Instead, I really fell in love with how well written, well-developed, and heartfelt the story was.
Finally, I really fell in love with Philippe's quirky and heartfelt writing style. The plot flowed so naturally, it felt like I was reading a real-life story of a living, breathing teenager. And that's even with quips and humor that felt way too well thought out for your average sixteen year-old (trust me, I would know – the things that come out of my brothers' mouths are certainly not as well-planned as half the things Norris said). I also adored how Philippe ended the novel – not a cliff-hanger, but certainly not a closed door!
Overall, it is safe to say that fans of the genre (especially Canadians and Texans) will adore this quirky little read. The Field Guide to the North American Teenager by Ben Philippe brings together lovable characters, an in-depth social commentary, and quality writing within the pages of a single book, and it does it well (4/5).