"With a resourceful and cunning heroine, a compelling and nuanced romance, and a truly fascinating system of magic, Ever the Hunted ensnared me from the very first pages. Absolutely marvelous." – Sarah J. Maas, New York Times (bestselling author of the Throne of Glass books).
Ever the Hunted by Erin Summerhill was released on November 17, 2017, ad while I didn't pick this one up right away, it was most certainly worth the read – because Ever the Hunted is overflowing with potential, including a fascinating world, intriguing characters, and an adventure with plenty of thrilling twists and turns will keep readers turning pages long into the night.
Seventeen year-old Britta Flannery is at ease only in the woods with her dagger and bow. She spends her days tracking criminals alongside her father, the legendary bounty hunter for the King of Malam—that is, until her father is murdered. Now outcast and alone and having no rights to her father's land or inheritance, she seeks refuge where she feels most safe: the Ever Woods. When Britta is caught poaching by the royal guard, instead of facing the noose she is offered a deal: her freedom in exchange for her father's killer. However, it's not so simple. The alleged killer is none other than Cohen McKay, her father's former apprentice. The only friend she's ever known. The boy she once loved, who broke her heart. She must go on a dangerous quest in a world of warring kingdoms, mad kings, and dark magic to find the real killer. But Britta wields more power than she knows. And soon she will learn what has always made her different will make her a daunting and dangerous force.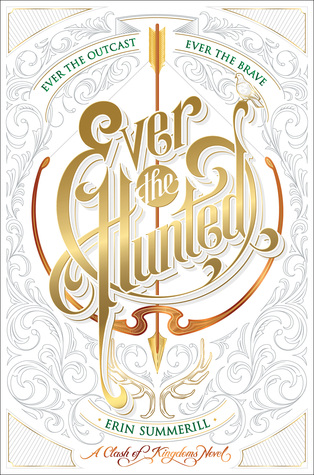 Honestly, I picked this book up on a whim last year – but once I started reading it, I simply couldn't put it down! Britta is a resourceful and cunning heroine readers will love, Summerhill's widespread world-building is to die for, and her artful prose tells a captivating story that is certainly worth reading. This fierce tale utterly captivated me, which was both unexpected and pleasantly surprising.
"Bravery is a choice that is yours to make. Don't let fear steal your will." – Erin Summerill, Ever the Hunted
Britta and Cohen are undoubtedly the main characters of this tale, and I loved how their paths weaved together throughout the novels – in both expected and unexpected ways. Essentially, it boils down to this – Britta is an excellent tracker, but her father's alleged kille is not someone Britta wants to track – Cohen McKay. He's Britta's childhood best friend, and while her life is in the balance, Britta must still combat her own emotions to track him down. Thus, the story is largely focused on Britta and Cohen – and their relationship. Britta, for her part, is a likable heroine – she's tough and headstrong, determined and willful. She's also compassionate and very selfless, and all of these qualities make her a strong and capable young woman – though she remains a far-cry for the "perfect" woman. Cohen, for his part, is just as determined and willful as Britta. Yet he is also protective and very loyal, and it's obvious that he loves Britta, despite the conflict and distance between the two. Honestly, my biggest complaint in regards to characters is that there aren't more of them – I did enjoy the main characters, I just wish we had a few more important side characters to balance them out and fill in the holes.
Unfortunately, when it comes down to the relationship between Britta and Cohen, I just couldn't make myself love it. Sure, their initial reunion was heart-wrenching and beautiful and spectacular… but after that, it was just bland. Honestly, Britta and Cohen's relationship is so dull I simply cannot bring myself to care about it. This likely stems from the nature of their relationship – in that most of Cohen and Britta's love story happened off-screen. I did not get to watch them fall in love. They simply were already in love by the time I met them in the first book. It was written as though it was a fact. It was not a journey, but a presentation of information that didn't inspire much passion.
Despite this, I did quite enjoy Summerhill's storytelling. She seamlessly wove together multiple different elements – including a corrupt ruler, warring nations, the prosecution of Channeler's (witches), the agency/power of woman, and a quiet love story between the two main characters. Overall, I think it is safe to say that magic is a significant part of the story, though it is not yet in the spotlight in Ever the Hunted – not the focus of the story, yet very important to the story. Instead, the threat of a corrupt leader and the love story between Britta and Cohen takes center stage, allowing Summerhill to take readers on a sweeping journey through Malam and Shierdan as the two try to uncover the truth behind Britta's father's murder. This allows Summerhill to develop the physical setting and political climate quite nicely, while leaving something to be desired when it comes to fleshing out the magic system that exists in the tempestuous world.
Overall, I really enjoyed Ever the Hunted by Erin Summerhill. From determined and willful protagonists, to sweeping adventures and quiet romance, Ever the Hunted delivers everything a reader could want from a YA Fantasy novel – while still leaving the reader wanting more (4/5).