#1 New York Times bestselling author Kendare Blake returns with the highly anticipated third book in the Three Dark Crowns series! Two Dark Reigns by Kendare Blake was released on September 4, 2018, following up Three Dark Crowns (September 20, 2016) and One Dark Throne (September 19, 2017). This third installment promises intrigue, betrayal, and blood – though this is not unexpected from this series!
Queen Katharine has waited her entire life to wear the crown. But now that she finally has it, the murmurs of dissent grow louder by the day. There's also the alarming issue of whether or not her sisters are actually dead—or if they're waiting in the wings to usurp the throne. Mirabella and Arsinoe are alive, but in hiding on the mainland and dealing with a nightmare of their own: being visited repeatedly by a specter they think might be the fabled Blue Queen. Though she says nothing, her rotting, bony finger pointing out to sea is clear enough: return to Fennbirn.  Jules, too, is in a strange place—in disguise. And her only confidants, a war-gifted girl named Emilia and her oracle friend Mathilde, are urging her to take on a role she can't imagine filling: a legion-cursed queen who will lead a rebel army to Katharine's doorstep. This is an uprising that the mysterious Blue Queen may have more to do with than anyone could have guessed—or expected.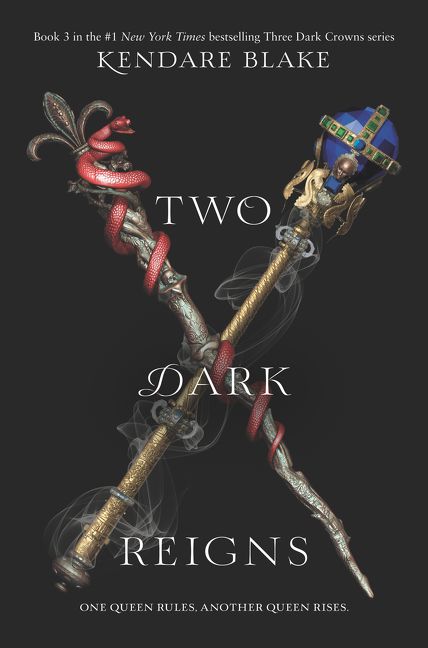 Well, here we are again. From what was meant to be a standalone novel, then a duology, and now a supposed quartet, Kendare Blake just doesn't seem to know where this story is going or how exactly to wrap it up. In my opinion, Two Dark Reigns is just extending a story that has already been stretched thin – with plot lines pulled taut in so many directions in nearly impossible to keep track of them, or to have any real idea of what the point of the story is anymore.
By now, you may be asking yourself – why do I keep reading these books, if I've grown to despise them so much? Honestly, I'm not sure, other than perhaps that I feel some morbid duty to follow this disaster through to the end.
I don't particularly care for Katherine, Mirabella, or Arsinoe in this tale. While I've enjoyed Katherine's devilish wickedness in the past, or Mirabella's headstrong nature, or even Arsinoe's steadfast loyalty and compassion, all three sister queens really fell flat in this one. It seemed as if Blake stripped them of what made them powerful characters in previous novels – Katherine was trying to be a good queen, and lost her edge. Mirabella was meekly trying to fit into society, resisting the call of danger and adventure in favour of keeping Arsinoe safe. And Arsinoe, for her part, was willing to abandon those around her for her own goals time and time again, seemingly on a whim. Honestly, the only characters I enjoyed in this one were Billy and Jules, both of whom stuck by their morals and previous character development.
But perhaps my biggest problems with Two Dark Reigns, and this series as a whole, is that there is lot going on, and none of it is actually interesting. Is this a bloody battle for the throne? A tale of rebellion? A lyrical horror story? Who really knows – I mean, it doesn't even seem like Kendare Blake knows at this point! This has created a huge continuity problem for me as a reader, since I often forget what's happened by the time the next book comes out (whether because the prior events were too dull, too meaningless, or overly convoluted) and I go into the next book completely confused and disorientated. I know I really should re-read the previous books, but at this point, my enthusiasm is at an all-time low for this series, and I just can't bring myself to do it.
Overall, Two Dark Reigns by Kendare Blake is just a bloated setup story for the fourth (and hopefully final) book in this drawn-out series. Absolutely nothing important happens in this book exactly because it's only moving the chess pieces for the final showdown. The the characters are nowhere near compelling enough to save this wayward tale, the drama is too tame compared to the blood and betrayal originally promised by this series, and the plot too convoluted to make readers want to continue with this story for a whole other book. Honestly, the only reason I picked up Two Dark Reigns was because I'd already invested two novels' worth of time. By now I may not bother with the last book (1.5/5).