Set to release in North America on February 5, 2019, We Told Six Lies by Victoria Scott is a taut, fast-paced thriller perfect for fans of e.lockhart We Were Liars, April Henry, Megan Miranda, or young adult fans of Gillian Flynn.
DISCLAIMER: I received an Advance Review Copy of this book from Raincoast Books in exchange for an honest review.
Remember how many lies we told, Molly? It's enough to make my head spin. You were wild when I met you, and I was mad for you. But then something happened. And now you're gone. But don't worry. I'll find you. I just need to sift through the story of us to get to where you might be. I've got places to look, and a list of names. The police have a list of names, too. See now? There's another lie. There is only one person they're really looking at, Molly. And that's yours truly.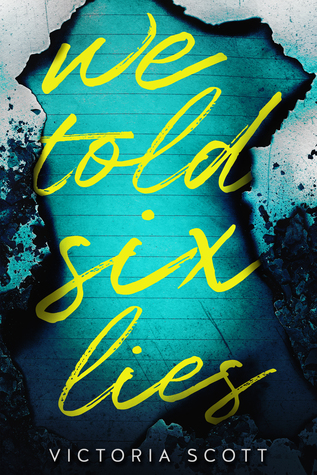 Lately, I have found myself more and more intrigued by both the YA Contemporary genre and the YA Mystery genre. It really seems like authors are starting to figure out how real youth live their lives, and meshing this information with daring mysteries has really added to the intrigue and potential of the genre. Having recently read (and loved) Dare You To Lie by Amber Lynn Natusch, and being a huge fan of We Were Liars by e.lockhart, I was intrigued by We Told Six Lies. And while this book delivered a solid plot and a note-worthy conclusion, it just wasn't "wow" inducing.
Since the synopsis is a bit open-ended and vague, let me give you (the reader) a bit more insight into the tale contained withing these pages. We Told Six Lies tells the story of Cobain and Molly. Or rather, it tells a twisted, manipulative young love story where hopes and dreams are spoken in whispers, and the dark secrets both teens harbor are left unsaid. However, these hopes and dreams are shattered when Molly goes missing and the only suspect is her boyfriend, Cobain. Desperate to find Molly and unravel the mystery of her disappearance, Cobain sifts through the lies of their relationship – and his own past – to find the truth about her disappearance before it's too late.
As usual, let's begin with the characters. I'll be honest here – I didn't really like the characters, so much so that drudging up their names for this review was kind of difficult. And what names they were! Asides from Molly, Scott seems to have used a poorly designed millennial name generator to create these beauties – Cobain, Rhana, Davea, etc.  Furthermore, I definitely had some issue with the characters as a result of the fact that they all seemed to be intentionally deceiving/cruel and it wasn't exactly easy for me to rely on their statements or connect to any of them. The only character I felt any modicum of sympathy or concern for was Molly – and only because she had been kidnapped and was being held hostage by a hooded mystery man.
Despite that, one thing I did love was the mystery. I must admit, although I thought I had the mystery figured out a dozen different times, I was never even close to the truth. And yet, I didn't feel like this story was spent trying to intentionally lead the reader in the wrong direction – all the clues were there for the attentive reader, I simply missed them in favor of "red herrings" and other clues. Honestly, the dives and twists the plot took towards the end left me racing to read through the last pages, hoping that my assumptions were wrong, only to be even more surprised by the truth.
In conclusion, I enjoyed We Told Six Lies by Victoria Scott for its well-spun mystery and note-worthy conclusion, but the characters and story occurring beyond the mystery were forgettable at best. I really couldn't connect with any of the characters, and even a darkly compelling mystery couldn't overcome the general mediocrity I felt after finishing this book (3/5).