Released on November 20, 2018 in North America, Five Feet Apart by Rachael Lippincott is a story that fans on the YA Contemporary genre – and fans of YA in general – won't want to miss. In this moving story that's perfect for fans of John Green's The Fault in Our Stars, two teens fall in love with just one minor complication—they can't get within five feet of each other without risking their lives. And what's more? Five Feet Apart is soon to be a major motion picture starring Cole Sprouse and Haley Lu Richardson in March 2019 (Movie trailer: https://youtu.be/5cJ7MT1RTqs)!
Disclaimer: I received a finished copy of Five Feet Apart by Rachael Lippincott from Indigo Books & Music Inc. in exchange for an honest review.
Can you love someone you can never touch? Stella Grant likes to be in control—even though her totally out of control lungs have sent her in and out of the hospital most of her life. At this point, what Stella needs to control most is keeping herself away from anyone or anything that might pass along an infection and jeopardize the possibility of a lung transplant. Six feet apart. No exceptions. The only thing Will Newman wants to be in control of is getting out of this hospital. He couldn't care less about his treatments, or a fancy new clinical drug trial. Soon, he'll turn eighteen and then he'll be able to unplug all these machines and actually go see the world, not just its hospitals. Will's exactly what Stella needs to stay away from. If he so much as breathes on Stella she could lose her spot on the transplant list. Either one of them could die. The only way to stay alive is to stay apart. But suddenly six feet doesn't feel like safety. It feels like punishment. What if they could steal back just a little bit of the space their broken lungs have stolen from them? Would five feet apart really be so dangerous if it stops their hearts from breaking too?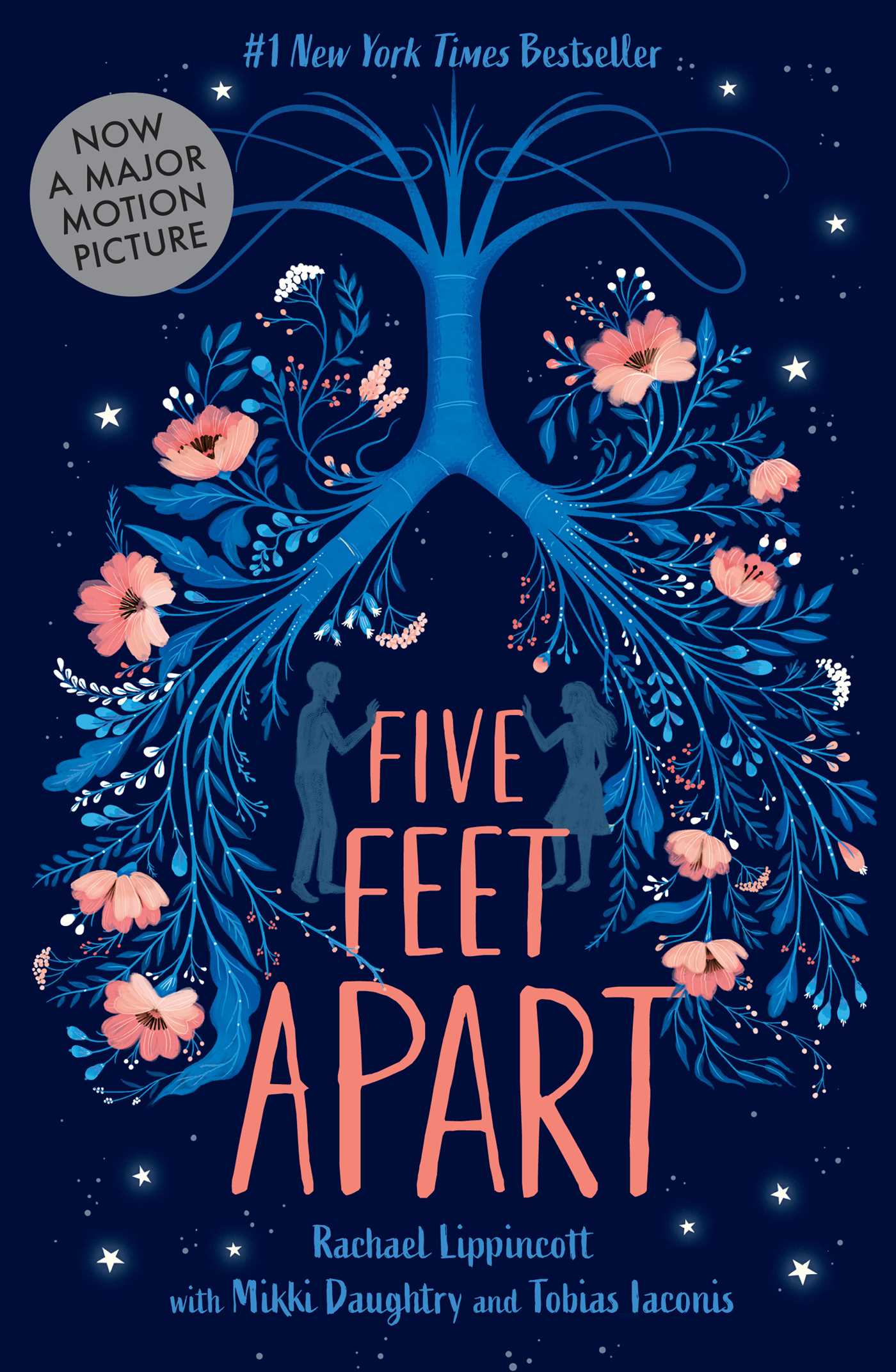 This is definitely a story that fans of the genre will be clamoring to read! Five Feet Apart was such an endearing, engaging and sweet Teens & YA novel featuring two teenage main characters, Stella and Will, who are both patients in the hospital with Cystic Fibrosis that fall in love. I was totally taken with this story and this tale of these two star-crossed lovers, Stella and Will, as I was immediately drawn into this touching and heartbreaking story that I couldn't put down.
The characters' backstories are complex and moving, and the unpredictability of the disease will break readers' hearts. The story is told in alternating perspectives between Stella and Will and I thoroughly enjoyed both narratives equally. They complimented each other so well and I really felt for them. The banter between Stella and Will, as well as that which arises among other characters, is quite sweet and never fails to lighten the mood. Both of their situations and feelings towards each other rang true and I loved how I learned so much more about Cystic Fibrosis throughout this novel.
It's also impossible to avoid falling in love with the romance Lippincott brought to life on these pages: two teens who are in love, but who are unable to physically touch one another is such a great concept! The longing for something that is so close yet so far, is invigorating, and sure to pull at reader's heart strings! It really puts a fresh and heart-wrenching spin of the "star-crossed lovers" tale – even more so because Lippincott never wavered in the assertion that the two teens had to stay apart, no matter what.
Finally, the plot of this book totally blew me away. Before I even opened the book, I was expecting a very The Fault in Our Stars story – boy meets girl, they completely disregard their illnesses to pursue their instant-passion and some ridiculous goal, resulting in the heart-breaking death in one half of their doomed love story. Instead, Lippincott kept the story very real and practical, exploring the relationship blossoming between Stella and Will within the confines of their illness and their needs. Their feelings for each other seemed to bloom naturally with each turn of the page, and the twists felt both realistic. Now, I'm not saying that they weren't elements of this book that were reminiscent of The Fault in Our Stars – I am more so aiming to convey that Five Feet Apart is a powerful story unto itself, with a well scripted plot and a powerful story.
Overall, Five Feet Apart by Rachael Lippincott delivers an intriguing, emotional, well-plotted and well-written read with relatable and likeable characters that I couldn't help but to fall in love with. Readers will also adore the open-ended ending to this tale, which will leave them feeling hopeful, yet totally satisfied with where the journey took them (5/5).