Released in North America on November 6th, 2018, Girls of Paper and Fire by Natasha Ngan is a gorgeously written, brutal, and gripping tale that features diverse characters, hateful villains, a sapphic love story, and empowering female leads.
Each year, eight beautiful girls are chosen as Paper Girls to serve the king. It's the highest honor they could hope for…and the most cruel. But this year, there's a ninth girl. And instead of paper, she's made of fire. In this lush fantasy, Lei is a member of the Paper caste, the lowest and most oppressed class in Ikhara. She lives in a remote village with her father, where the decade-old trauma of watching her mother snatched by royal guards still haunts her. Now, the guards are back, and this time it's Lei they're after–the girl whose golden eyes have piqued the king's interest. Over weeks of training in the opulent but stifling palace, Lei and eight other girls learn the skills and charm that befit being a king's consort. But Lei isn't content to watch her fate consume her. Instead, she does the unthinkable–she falls in love. Her forbidden romance becomes enmeshed with an explosive plot that threatens the very foundation of Ikhara, and Lei, still the wide-eyed country girl at heart, must decide just how far she's willing to go for justice and revenge.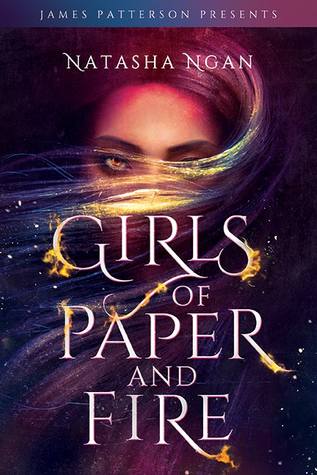 Before picking up Girls of Paper and Fire by Natasha Ngan I had been in a huge reading slump. I hadn't read a book in nearly three weeks, and I was having a hard time picking up anything new. But I was intrigued by the story Ngan had told, and so I finally picked it up to read – and read it in one sitting. Truth be told, I simply could not put this book down.
"Because if this is to be my fate, I'm going to walk boldly into it on my own two feet." – Girls of Paper and Fire, Natasha Ngan
The characters in this story are compelling, heart-breaking, and powerful. Lei is a powerful female lead, but in a relatable, understandable way. She is not a trained assassin, nor was she highborn. She is a lowborn, common girl, who after being ripped from her home and brought to the palace to serve the king as a consort, learns to be true to herself and for what she believes in. Lei also opens herself up to love, and begins to learn what it means to live her life to the fullest, rather than hiding herself away. She has a silent strength throughout and the readers will undoubtedly identify with her emotions, from grief and heartbreak to love. Wren is the opposite side of her coin – a trained assassin and hailing from a powerful family, she is grace and confidence exemplified. Wren has a bold nature and desire to make things right was engaging, and became a glimmer of hope to read about.
Another aspect of Girls of Paper and Fire that I really enjoyed was the rich and potent world Ngan built. Ngan herself is Chinese Malaysian, and has stated that a lot of the cultural influences in the world of Ikhara come from her Malaysian heritage. This personal connection and cultural knowledge is evident right from the get-go in the beautifully rendered setting. Ikhara is an enthralling blend of beauty and danger, anchored in intricate worldbuilding, imbued with color and texture and scent and drenched in evocative mythology and tradition. Furthermore, Ikhara is a society where misogynist sadists flourish because misogyny is justified as tradition, maleness comes with a presumption of violence and women are perceived as public property and less deserving of basic rights than men.
"I know what it means to dream about the past. To dream about things you have loved, and lost." – Girls of Paper and Fire, Natasha Ngan
That being said, Girls of Paper and Fire also tackles a very dark and serious topic delicately and respectfully. The scenes are not graphic overly graphic, but the characters (such as Lei, Wren, and Aoki) do talk and think about what happened afterwards. They also experience physical and emotional trauma from their experiences as Paper Girls, which Ngan does not shy away from sharing. In the world she has crafted, Ngan delicately lays out all the subtlest ways rapists are abetted by cultures in which women are viewed as only partial people, where women's bodies are intensely politicized, and where social hierarchies outrageously privilege certain members because they're men. Ngan has stated that she didn't write about these topics in her books with the intention to distress or shock readers – it's written with love and care, through the lens of a sexual abuse survivor.
Overall, I think its safe to say that I adored this book, and that I will most definitely be picking up the next book in Ngan's series! From heartfelt characters, to an evocative world, and powerful storytelling, Ngan delivered everything one could hope for with this story – and then something extra (5/5).