Shadow of the Fox, released on October 2, 2018, is the newest book from the New York Times bestselling author of The Talon Saga and The Iron Fey  Julie Kagawa. Fans of Sarah J. Maas, Julie C. Dao, Marie Lu, Cassandra Clare and more bestselling YA fantasy will be captivated by book one of this enchanting new series.
One thousand years ago, the great Kami Dragon was summoned to grant a single terrible wish—and the land of Iwagoto was plunged into an age of darkness and chaos. Now, for whoever holds the Scroll of a Thousand Prayers, a new wish will be granted. A new age is about to dawn. Raised by monks in the isolated Silent Winds temple, Yumeko has trained all her life to hide her yokai nature. Half kitsune, half human, her skill with illusion is matched only by her penchant for mischief. Until the day her home is burned to the ground, her adoptive family is brutally slain and she is forced to flee for her life with the temple's greatest treasure—one part of the ancient scroll. There are many who would claim the dragon's wish for their own. Kage Tatsumi, a mysterious samurai of the Shadow Clan, is one such hunter, under orders to retrieve the scroll…at any cost. Fate brings Kage and Yumeko together. With a promise to lead him to the scroll, an uneasy alliance is formed, offering Yumeko her best hope for survival. But he seeks what she has hidden away, and her deception could ultimately tear them both apart. With an army of demons at her heels and the unlikeliest of allies at her side, Yumeko's secrets are more than a matter of life or death. They are the key to the fate of the world itself.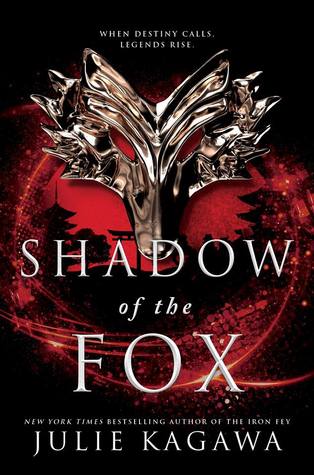 When I first finished reading Shadow of the Fox by Julie Kagawa, all I could say was "wow". I was utterly speechless, because this book exceeded all my expectations in a way that YA Fantasy has not done in quite some time. Shadow of the Fox utterly enthralled me, broke my heart, and left me wanting more! I simply cannot wait for Soul of the Sword.
Yumeko and Kage were riveting, compelling protagonists with questionably grey morals, each deceiving one another in turn as they navigate their relationship, deadly battles, and their part in the Kami Dragon's legacy. Yumeko has lived her entire life with monks in the Silent Winds temple, but her kitsune heritage shines through, giving her a quirky personality and a penchant for illusions and mischief – much like the fox form she struggles to hide from her companions. Kage is equally intriguing – as a Samurai of the Shadow Clan, he is one of the deadliest warriors and demon slayers ever.  Unbeknownst to Yumeko, he wields a demon blade, Hakaimono, that gives him even more power – but constantly tests his willpower, threatening to overpower him and release the demon within. He has been sent on a mission to retrieve that ancient scroll, but instead finds Yumeko and promises to get her to the hidden temple – not knowing she carries what he desires.
Individually they are fantastic characters, but it's Yumeko and Kage's dynamic that is so beautiful and enrapturing. The friendship that blossoms between the two of them, despite the adversity they face and the barriers between them, is beautiful and powerful and breathtakingly beautiful. Shadow of the Fox is undoubtedly the start of an extremely slow burning romance that will steal readers' hearts and captivate them from Yumeko and Kage's first encounter – and then break them time and time again.
At its core, Shadow of the Fox is a Japanese inspired fantasy about Kage, a mysterious samurai with a dangerous secret, and Yumeko, a half-kitsune on a mission she will seek to achieve, not matter the cause. Their stories get interwoven with one another's regardless of what they wanted, or had planned. Kage and Yumeko, along with a band of unexpected allies, are forced to work together to not alone achieve their goals, but survive – because as they travel a demon army gathers, and it is set to destroy everything they know. But it is also a journey – with its characters travelling from place to place, performing smaller quests, as they try to get to their final destination. As a reader, it is easy to fall in love with every new town and every new adventure that Yumeko and Kage experience together – and every new misfit that joins their band of travellers!
I loved this book from the very first chapter, and grew more captivated and more captivated with each passing page and chapter. Yumeko, Kage, and their band of misfits are engaging and lovable characters that stole my heart time and time again, and the story that Kagawa crafted was utterly beautiful and heart-breaking, making it impossible to put this book down (5/5).