Set to release on October 30, 2018, The Darkest Star is Jennifer L. Armentrout's newest novel set in the Lux universe. In The Darkest Star, Jennifer L. Armentrout brings her trademark drama and intrigue to a new romantic YA science fiction series, presenting readers with a girl confronted by long buried secrets, a betrayal that could tear lives apart, and a swoonworthy romantic interest with dark secrets of his own.
DISCLAIMER: I received an Advance Reader Copy of this book from Raincoast Books in exchange for an honest review.
In the world of the Lux, secrets thrive, lies shatter, and love is undeniable. Seventeen-year-old Evie Dasher knows firsthand the devastating consequences of humanity's war with the stunning, otherworldly Luxen. Evie was just a kid when the aliens were defeated, but her life was forever changed when her father, Sergeant Jason Dasher, was killed during one of the deadly battles. When Evie is caught up in a raid at a notorious club known as one of the few places where humans and the surviving Luxen can mingle freely, she meets Luc, an unnaturally beautiful guy she initially assumes is a Luxen…but he is in fact something much more secret-and much more dangerous. Her growing desire to know about Luc will lead her deeper and deeper into a world she'd only heard about, revealing secrets long buried, a betrayal that could tear her life apart, and an attraction that could be the very end of her.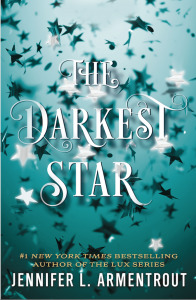 I'll be honest here – I read the synopsis of this book, was intrigued, and completely did not realize that The Darkest Star was a spin-off of Jennifer L. Armentrout's Lux series. That being said, I think that this book can be read without reading the previous installments (as someone who did it, I ought to know), though readers may lose some of the nuances and nostalgia as they settle into the book at the story.
So let me say this plainly, for those who have and haven't read Armentrout's previous work – The Darkest Star is a spin-off series that takes place after the events of Opposition. It centers around Evie and Luc (who made an appearance in Armentrout's previous series).
I knew I would enjoy the story right from the start, because I was immediately drawn to a lot of the characters – and as a character driven read, half the battle was already won. And honestly, readers will have a hard time not being intrigued and fascinated by Evie and Luc (among others), as they navigate their relationship and the growing dangers in the world around them. Luc is both aloof and serious, keeping readers on their toes – and curious about his true intentions. He's certainly intriguing, and as readers will discover, its impossible not to fall for Luc along with Evie. For her part, Evie resilient and brave, even she she's scared out of her mind. She is strong in her own way, approaching even the most dire of circumstances with compassion and steadfastness, unwilling to compromise her morals or bow to the whims of those around her.
And their slow-burning passionate romance – it's good enough to make even the most ardent reader of YA Romances swoon. From almost the first scene, there's tension and passion kindling between the two, but this isn't an insta-love story. The two draw tantalizingly close to romance on multiple occasions, only to have life (or danger) get in the way, leaving readers constantly pining for more.
Despite my love for the characters, I found myself less than in love with the quality of writing and dialogue. At times, it was so incredibly cheesy and childish that it drew me right out of the story. It was so extra and over-the-top, there were times where not even my love for the characters and desire to see how the plot progressed could keep me truly engaged.
Overall, despite my issues with the quality of the writing, I did really enjoy The Darkest Star by Jennifer L. Armentrout. As a character driven read, half the battle was already won when Luc and Evie solidified themselves as powerful and likeable protagonists. Add a sizzling romance and a fast-paced plot with plenty of twists and turns, and readers are guaranteed to like – maybe even love – this one despite its flaws (3.5/5).