Set to release on October 30, 2018, The Darkest Star is Jennifer L. Armentrout's newest novel set in the Lux universe. In The Darkest Star, Jennifer L. Armentrout brings her trademark drama and intrigue to a new romantic YA science fiction series, presenting readers with a girl confronted by long buried secrets, a betrayal that could tear lives apart, and a swoonworthy romantic interest with dark secrets of his own.
DISCLAIMER: I received an Advance Reader Copy of this book from Raincoast Books in exchange for an honest review.
In the world of the Lux, secrets thrive, lies shatter, and love is undeniable. Seventeen-year-old Evie Dasher knows firsthand the devastating consequences of humanity's war with the stunning, otherworldly Luxen. Evie was just a kid when the aliens were defeated, but her life was forever changed when her father, Sergeant Jason Dasher, was killed during one of the deadly battles. When Evie is caught up in a raid at a notorious club known as one of the few places where humans and the surviving Luxen can mingle freely, she meets Luc, an unnaturally beautiful guy she initially assumes is a Luxen…but he is in fact something much more secret-and much more dangerous. Her growing desire to know about Luc will lead her deeper and deeper into a world she'd only heard about, revealing secrets long buried, a betrayal that could tear her life apart, and an attraction that could be the very end of her.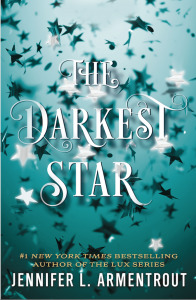 Continue reading "The Darkest Star (ARC) by Jennifer L. Armentrout" →