In his newest book, Adam Silvera reminds readers that there's no life without death and no love without loss in this devastating yet uplifting story about two people whose lives change over the course of one unforgettable day.
On September 5, a little after midnight, Death-Cast calls Mateo Torrez and Rufus Emeterio to give them some bad news: They're going to die today. Mateo and Rufus are total strangers, but, for different reasons, they're both looking to make a new friend on their End Day. The good news: There's an app for that. It's called the Last Friend, and through it, Rufus and Mateo are about to meet up for one last great adventure—to live a lifetime in a single day.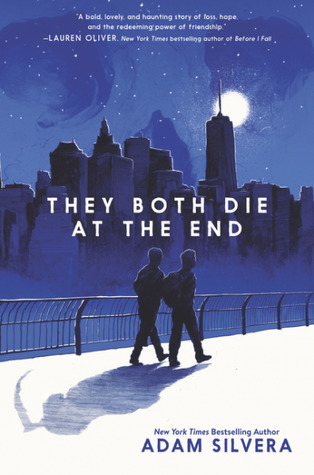 As soon as I heard about They Both Die at the End by Adam Silvera, I knew this book was one that I had to read. Despite the fact that it was released on September 5th, 2018, I didn't get to this one until more recently – and in the form of an Audio Book no less! I absolutely loved listening to this one as an Audio Book –  as far as Audio Books go, its not too long, taking 8 hours and 29 minutes to listen to. And all 8 hours and 29 minutes were certainly enjoyable – Michael Crouch, Robbie Daymond, Bahni Turpin did an excellent job narrating They Both Die at the End, really bringing the story to life in a powerful and profound way.
This book kicks off exactly as you would expect (having read the above synopsis) : Mateo and Rufus going about the evening (albeit in very different ways), only to have their lives turned upside down when they receive a call from DeathCast. A Call that tells them that they will die somehow, someway, somewhere, in the next 24 hours. This knowledge immediately makes the reader sympathetic towards Mateo and Rufus' plight (how could it not?), and from there, Silvera is a master at wringing all sorts of emotions from the reader as Mateo, Rufus, and those around them venture into a brave new world that will find its end with Mateo and Rufus dead.
I really, really loved both Mateo and Rufus' characters. They could have done anything (or nothing), but they found a friend, and something more in each other. They didn't mope around about their deaths, cry about it, sit silently about it. They found each other and wanted to spend their last day together finding friendships, love, and trying new things. They spent their last day with all their loved ones doing things that made them happy. They truly lived life the day they were going to die. It was beautiful, and powerful, and utterly heart-breaking all at once, and impossible not to love.
Beyond the power of the story being told, it was also a well told story – Silvera maintains a high-quality of writing and storytelling throughout the entirety of They Both Die at the End, maintaining a beautiful prose as he tells his tale.
They Both Die at the End will make readers connect with their humanity and make them feel. It will make readers question how they are living their life – and challenge them to live it to its fullest, even if only for a day.