On May 15, 2018, the #1 New York Times bestselling Red Queen series by Victoria Aveyard came to a stunning conclusion with the release of the fourth book in the series, War Storm. In this epic conclusion to Victoria Aveyard's stunning series, Mare must embrace her fate and summon all her power . . . for all will be tested, but not all will survive.
Victory comes with a price. Mare Barrow learned this all too well when Cal's betrayal nearly destroyed her. Now determined to protect her heart—and secure freedom for Reds and newbloods like her—Mare resolves to overthrow the kingdom of Norta once and for all . . . starting with the crown on Maven's head. But no battle is won alone, and before the Reds may rise as one, Mare must side with the boy who broke her heart in order to defeat the boy who almost broke her. Cal's powerful Silver allies, alongside Mare and the Scarlet Guard, prove a formidable force. But Maven is driven by an obsession so deep, he will stop at nothing to have Mare as his own again, even if it means demolish everything—and everyone—in his path. War is coming, and all Mare has fought for hangs in the balance. Will victory be enough to topple the Silver kingdoms? Or will the little lightning girl be forever silenced?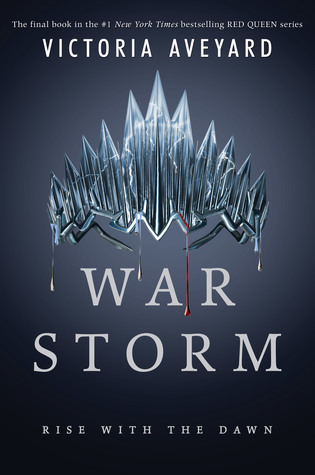 War Storm by Victoria Aveyard promised to be a "stunning conclusion" to the #1 New York Times bestselling Red Queen series – and I was certainly excited to read this one, with it being among my most highly anticipated reads of 2018. Unfortunately War Storm fell very, very short for me, in regards to the action, the plot, and even the characters I had grown to love in the prior 3 books.
"I am less than his crown, and he is less than my cause," War Storm, Victoria Aveyard, p. 4
Beginning with the characters – everyone's favourites, including Mare, Kilorne, Farley, Cal, and even Maven are back in this final installment, and more characters than ever have the opportunity to share their perspective throughout War Storm, which I did really enjoy. Unfortunately, Mare (who still gets the majority of the chapters) is still just her usual annoying, bratty self. Cal, at least, fares slightly better than Mare, avoiding being downright frustrating to read by being simply boring an predictable. Honestly, my favourite perspective/character in this one was far and away Evangeline Samos, who underwent some serious character development, soul searching, and hardships in this one, coming out a better person that I actually enjoyed reading about. Not so with her counterparts. Oh, and Kilorne? Can somebody remind me why his character exists?
"How many people have power they shouldn't simply because their family gives it to them?" – War Storm, Victoria Aveyard, p.119
First, let me say that Aveyard's writing, as it was in her other books, was good. It doesn't shine, but it is of a high enough quality that the writing itself was not jarring.
Now, this is a big book – almost 700 pages to be exact – and with this cover, name and the fact that it is a finale to an otherwise thrilling series, readers would undoubtedly expect it to be action-packed, riddled with reveals, and interesting from cover to cover. Unfortunately, War Storm dragged on way more than necessary, with far too much talking, down-time, and filler in between the action and plot progression. Really, there's not much else to say about the plot of War Storm other than this – the story is flawed from the beginning and the flaws become glaringly clear in the middle, resulting in utter failure at the end.
"You are denied what you want because of what you are. A choice you never made , a piece of yourself you cannot change – and do not want to change" – War Storm, Victoria Aveyard, p.103
Finally, one aspect of this book that I did really love, as mentioned, was Evangeline Samos – her chapters were a bright spot in an otherwise bleak 700 pages. Evangeline underwent some serious character development, soul searching, and hardships in War Storm, coming out a better person that I actually enjoyed reading about. Prior to travelling to Montfort, Evangeline is exactly as I would expect her to be – that is, cold, restrained, and oppressed by her family, as she had been in previous books. However, when she travels to Montfort as part of the Nortan contingent, she witnesses something she had never seen before – where she witnessed a place where there was equality for the people. Silvers and Reds living together without one race being above the other, and individuals can marry whoever they want out of love, not simply because they're obligated to. For the first time, Evangeline sees a better future for herself – one where she can embrace her sexuality instead of hiding it, and where she can be with Elane. This plunges Evangeline into a moral and personal crisis that she struggles with throughout War Storm, as she tries to grapple with who she could be if she embraced herself – regardless of the consequences to those around her. I loved it, and I couldn't help but grow to love Evangeline.
"You could dream with your eyes open, and build what you wish" – War Storm, Victoria Aveyard, p.543
Overall, War Storm by Victoria Aveyard undoubtedly disappointed. While I appreciate Aveyard's quality writing and her creation of complex characters who have dual sides and moral ambiguity, this simply couldn't outpace the negatives of the book. Including, but not limited to, annoying and bland main characters, a slow and dull plot, and a lack of a satisfying conclusion (2/5).