Set to release in North America on July 31st, 2018, The Girl You Thought I Was by Rebecca Phillips promised to be "a charming and poignant ode to the seasons of friendship, family, and love, and what happens when we dare to reveal our most messy selves" (Darcy Woods).
(Disclaimer: I received an Advanced Reader Copy of The Girl You Thought I Was by Rebecca Phillips from Harper Collins Canada in exchange for an honest review). 
No one looking at Morgan Kemper would think she had a secret-at least not one that she's deeply ashamed of. To everyone she meets, she comes across as sweet, pretty, and put together. But Morgan knows that looks can be deceiving. For over a year, she's shoplifted countless pieces of clothing and makeup. Each time she tells herself it will be the last, and each time it never is. But when she's caught and sentenced to thirty hours of community service, the image Morgan has carefully constructed starts to crumble. She's determined to complete her punishment without her friends discovering the truth about her sticky fingers, but that's easier said than done…Especially once she meets Eli, the charming, handsome nephew of the owner of the charity shop where Morgan is volunteering. Soon, Morgan is faced with an impossible decision: continue to conceal the truth or admit that she's lied to everyone in her life, including the boy she's falling for.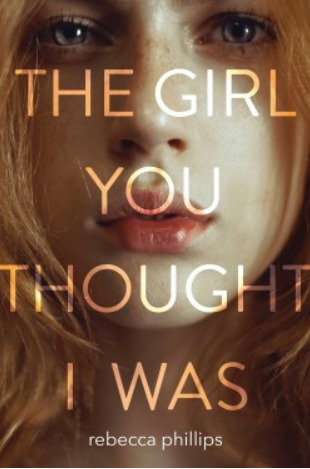 Honestly, I really wanted to like this one – I've been enjoying YA Contemporary more and more of late, and I was excited to read The Girl You Thought I Was by Rebecca Phillips as a break from my typically Fantasy and Sci Fi reads. Unfortunately, I was quickly disenchanted, and as I read, found myself growing to be more and more disappointed by this book and the story Phillips decided to tell.
Now, let me begin by saying that (initially) I really identified with Morgan. Her parents, like mine, are divorced. She is separated from her sibling by a move to university, which I experienced when I moved away to school five years ago. She has a small, tight-knit group of friends, similar to my own highschool friends. And she is, according to her own standards, living in poverty, such that she can validate stealing dozens of luxury items.
And that's what got me, because I've been there. I've been in that place where there isn't enough money for all those pretty, shiny things I want (want, not need) – where I couldn't have everything my friends had, because we didn't have the money. Honestly, I've probably been in a worse place than Morgan – her dad literally hands her $20 bills so she can go out for lunch with her friends, and she has a car that he pays for. So I apologize, but I really cannot sympathize with Morgan's need to steal luxury items, like pricey bathing suits and $200 Nordstrom sunglasses, just because she feels that she ought to be living in the lap of luxury, but isn't. Welcome to the working middle class sweetheart – it sucks, but it's life. Honestly, her ridiculous bratty-ness totally turned me off to feeling any sympathy for her story/position, and made much of this book a struggle for me to read.
Furthermore, I didn't see what Phillips outlined as "friendship dynamics and how quickly they can change, creating a new normal after your family has been ripped apart, and finding romance in unexpected places". All I could see was a story about a bratty, spoiled teenage girl. Sorry Phillips, its not working for me – as someone who has lived, and is living this life, I can tell you that Morgan's plight is far from something that will stir sympathy from those who've actually lived in poverty, or on the brink of it. So far from it. So far off tone it almost hurts.
Despite this, there were still aspects of this book I quite enjoyed. Morgan's friends, and the group dynamic they have going on, felt startlingly real, and the cheesy friend hangout sessions felt more realistic than most. Just as her friends did – Phillips did an excellent job developing Morgan's friends into individuals, rather than a clustered group hive-mind, so it made sense that their reactions to her "secret" life were differed and, honestly, they made the story that much more powerful, considering how utterly awful Morgan was.
Overall, The Girl You Thought I Was by Rebecca Phillips was well-written and had some excellent character development going on, especially in terms of the non-primary characters (Morgan's friends, her family, and Eli), but all of that was overshadowed by the fact that the story Phillips was trying to tell was just so off-key. As someone who has essentially lived Morgan's life, I felt alienated and embarrassed by the story, and completely removed from the surrealism of Morgan's life. I'm honestly not sure why this is he story Phillips decided to tell, but it hurt, and it certainly won't be one I'll be re-reading any time soon (1/5).