Reign the Earth by A.C. Gaughen was released in North America on January 30, 2018, and while it was on my Reading List, it wasn't one I was really highly anticipating, so I did not get to it until March, in the form of an audiobook I listened to whilst at the gym, driving to and from work, and around the house.
Shalia is a proud daughter of the desert, but after years of devastating war with the adjoining kingdom, her people are desperate for peace. Willing to trade her freedom to ensure the safety of her family, Shalia becomes Queen of the Bonelands. But she soon learns that her husband, Calix, is motivated only by his desire to exterminate the Elementae—mystical people who can control earth, wind, air, and fire. Even more unsettling are Shalia's feelings for her husband's brother, which unleash a power over the earth she never knew she possessed—a power that could get her killed. As rumors of a rebellion against Calix spread, Shalia must choose between the last chance for peace and her own future as an Elementae.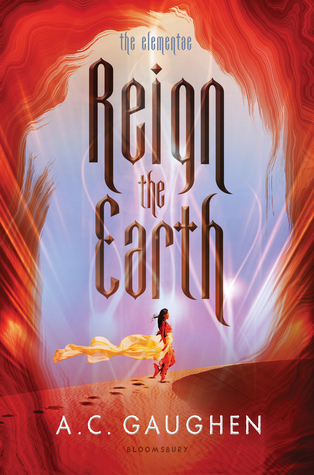 Let me start off with a quick commentary on the narration of the book. The audiobook is narrated by Soneela Nankani. As I don't often listen to audiobooks, Nankani is a new to me narrator – and while I repeatedly tried to convince myself that I would grow to like her voicing, I simply couldn't. Her voice is grating, sometimes bordering on shrill, and I really felt that, in the end, it detracted from my overall enjoyment of the story. However, the audiobook is 14 hours long which isn't too bad when you listen to it at a sped up rate (which is something I did). Overall, I can't say that I would recommend Reign the Earth as an audiobook, but perhaps what wasn't my cup of tea will be another's.
Irregardless, I don't know that I will be continuing this series, either in audio or print. What could have been a rich, cunning world full of political intrigue was flat and unoriginal, with flat and unoriginal characters, like Shalia. Shalia, as the protagonist, was incredibly passive in the moments that mattered most, making her difficult to like or even really care about, and I found myself (on more than one occasion) wishing that the story was about literally any other character other than her. Moreover, despite its bright cover and fantasy setting, this book was very dark, touching on themes of domestic/sexual abuse, arranged marriages, and even threats of miscarriage, something I truly did not expect from a Young Adult Fantasy novel – at least not in such big doses.
Let me state this again – for a potential readers, this novel heavily features themes of domestic/sexual abuse, arranged marriages, and even threats of miscarriage, something that can be triggering for many readers. And while these topics were not handled insensitively, I did not personally feel that they were handled with prowess, and that concerns me, especially as this novel will likely find its way in to the hands of teens and youth who will not understand the contextualization of these important topics.
Furthermore, as I stated, Shalia, as the protagonist, was incredibly passive in the moments that mattered most – or, more realistically, all the time – fading in the Trifectate society, which is incredibly oppressive to women, to a point where women aren't even expected, or permitted, to work. But you know what disgusted me most about this oppressive, patriarchal society? The scene wherein Shalia learns that the male children are trained to be soldiers, and at the completion of their training, have the choice to select a bride. And Shalia did not do, or say anything about this injustice, this further oppression of women. Honestly, Gaughen didn't do much to promote her readers' love of her protagonist at all.
Overall, I guess I just felt the whole book was…. lacking. Reign the Earth was a slow-paced high fantasy novel lined with dull politics, predictable surprises, and dark themes. The story had potential to be intriguing, but pacing issues and a generally unlikable and unremarkable main character resulted in a  dull, uninspiring read that leaves me with little motivation to pick up the sequel (1/5).