It has been called the biggest fantasy debut novel of 2018 – and after reading Children of Blood and Bone by Tomi Adeyemi for myself, I can certainly understand why. Released in North America on March 6, 2018, Children of Blood and Bone by Tomi Adeyemi is the first in the Legacy of Orïsha #1. Children of Blood and Bone tells the story of Zelie, a young girl from a fictional West African kingdom who is fighting to restore magic to her people, after it's been banned by a ruthless king. The novel has deep roots in Adeyemi's own Nigerian culture, and this shines through in the heartfelt and powerful tale that Adeyemi weaves.
Zélie Adebola remembers when the soil of Orïsha hummed with magic. Burners ignited flames, Tiders beckoned waves, and Zelie's Reaper mother summoned forth souls. But everything changed the night magic disappeared. Under the orders of a ruthless king, maji were targeted and killed, leaving Zélie without a mother and her people without hope. Now, Zélie has one chance to bring back magic and strike against the monarchy. With the help of a rogue princess, Zélie must outwit and outrun the crown prince, who is hell-bent on eradicating magic for good. Danger lurks in Orïsha, where snow leoponaires prowl and vengeful spirits wait in the waters. Yet the greatest danger may be Zélie herself as she struggles to control her powers—and her growing feelings for the enemy.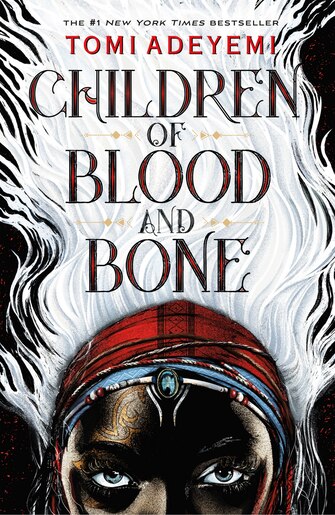 "We are all children of blood and bone. All instruments of vengeance and virtue." – Tomi Adeyemi, Children of Blood and Bone
Tomi Adeyemi says that Children of Blood and Bone was a response to the genre of fiction – that is, Young Adult Fantasy – in which the characters were always white – and while success may have been the last thing on Adeyemi's mind when she wrote Children of Blood and Bone, there is no doubt in my mind that this debut novel is just that – a smattering success (SOURCE).
At its core Children of Blood and Bone is an epic tale of an oppressive world (described as an allegory for the modern Black experience) where magic has been outlawed. The story follow fisherman's daughter Zélie and an unlikely band of allies and enemies on a quest to reawaken magic in the country of Orïsha – and hopefully, with the reawakening of magic, they can bring about the end of the oppression and torment that has shadowed their lives for far too long.
"It doesn't matter how strong I get, how much power my magic wields. They will always hate me in this world." – Tomi Adeyemi, Children of Blood and Bone
A huge part of the strength of this novel is the narrative of the characters – their experiences, their emotions, and their relationships. Zélie is undoubtedly the heart of this story, as are her pain, her choices, and her struggles are the core of the journey, though the experiences of those that surround her (whether in support or in opposition) are equally important. From Zélie's brother Tzain, who is fiercely protective of his sister and those he loves, and utterly willing to sacrifice himself to protect them, even as he grows more frustrated with their quest. To Amari, who begins Children of Blood and Book as a meek and afraid girl, but slowly develops into herself and becomes more comfortable with her abilities, growing into the powerful woman she was always destined to be. To Inan, the vengeful prince out to prevent Zelie and his sister, Amari, from bringing magic back at all costs – even as he wrestles with his own demons. Every character had their own arc, and I felt that, by the end of the book, they had all been given the light in which to shine and grow as individuals within their own narrative.
Adeyemi's writing is very straightforward and highly detailed, making for an enjoyable read within the tightly-packed tale that she is telling. This resulted in a very detailed, intense and well developed world that the reader could really engage with from beginning to end. From the detail and clean cut nature of the magic system, to the descriptive details Adeyemi put into her settings, or the intricacies of her character descriptions, no detail was left unaddressed. Truly, all elements of Orisha were flawlessly executed – the history, the divide among maji/diviners vs. nobles, the different types of magic… Everything had a well developed feel to it.
Yet despite this, I often found that the plot progressing far to rapidly. The story was jumping around a bit too quickly for my taste, pushing through events and travel far more rapidly than I would have expected from a book of this length and grandeur – and for a book that is the first in a planned trilogy.
"No matter how much I crave peace, the gods have other plans." – Tomi Adeyemi, Children of Blood and Bone
But despite all of this, good or bad, the true power of this novel is this – Children of Blood and Bone also traffics in truths, holding up a mirror to humanity in all its horrific glory, shining a light on the darkest parts of our society – the parts many would rather forget. The novel's strongest point is its deft portrayal of racial tensions and persecution. Zélie, and the daughter of a powerful maji, and being marked as a maji herself by her white hair, has experienced genocide, prejudice and structural inequalities, both on a personal and societal scale. Her story draws vivid parallels with our world, and the reader will not be able to ignore the message Adeyemi has woven into this tale, no matter how shrouded it is in Fantasy and magic.
Children of Blood and Bone by Tomi Adeyemi will keep readers on the edge of their seats throughout the entirety of the novel, turning page after page to find out where Zélie, Amari, Tzain, and Inan's stories will go next. With beautifully crafted characters and a vivid world, Adeyemi's debut is easily able to overcome some pacing issues to present a powerful story of oppression and perseverance against impossible odds to its readers, challenging them to consider the darkest parts of their own humanity in the face of fantasy (4.5/5).