Described as "fierce, vivid, and violently beautiful" Sky in the Deep by Adrienne Young has undoubtedly earned its place as a 2018 Most Anticipated Young Adult book. Set to release in North America on April 24, 2018, Sky in the Deep is a lush, Viking-age inspired fantasy about loyalty, forgiveness, and the definition of family that identifies Adrienne Young is a fantastic storyteller.
(I would like to thank Raincoast Books for providing me with an Advance Reader's Copy of Sky in the Deep by Adrienne Young in exchange for an honest review). 
Raised to be a warrior, seventeen-year-old Eelyn fights alongside her Aska clansmen in an ancient, rivalry against the Riki clan. Her life is brutal but simple: fight and survive. Until the day she sees the impossible on the battlefield-her brother, fighting with the enemy-the brother she watched die five years ago. Faced with her brother's betrayal, she must survive the winter in the mountains with the Riki, in a village where every neighbor is an enemy, every battle scar possibly one she delivered. But when the Riki village is raided by a ruthless clan thought to be a legend, Eelyn is even more desperate to get back to her beloved family. She is given no choice but to trust Fiske, her brother's friend, who sees her as a threat. They must do the impossible: unite the clans to fight together, or risk being slaughtered one by one. Driven by a love for her clan and her growing love for Fiske, Eelyn must confront her own definition of loyalty and family while daring to put her faith in the people she's spent her life hating.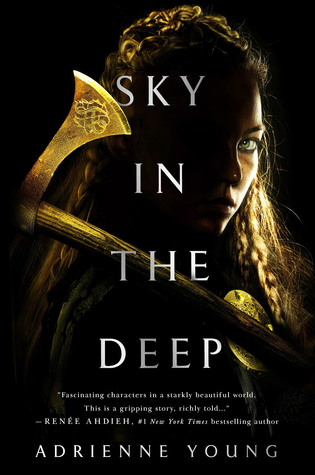 Fearless in its exploration of family, forgiveness, loyalty, and love, Sky in the Deep is fierce, vivid, and violently beautiful. This book will wage a war with your heart as brutal and as bold as the battles inked in its pages." – Stephanie Garber, International & New York Times Bestselling author of Caraval
In Sky in the Deep, Young has brought to life a fascinating world filled with fierce battles, shocking betrayals, powerful characters and a slow-burning romance that will keep this book in readers' hands until the very last page – at least, that's what happened when I read Sky in the Deep!
"Brutal and beautiful, with breakneck pacing and starring a heroine that will make you want to run into battle with her, Sky in the Deep is a stunning debut that will leave readers enchanted and breathless all at once." – Roshani Chokshi, New York Times Bestselling Author of The Star-Touched Queen
Undoubtedly one of the strongest points of this novel is Young's characters – from Eelyn, the primary protagonist of Sky in the Deep, to her fiercely loving father and ferocious battle partner Myra, to the Riki she encounters, like Fiske and Halvard, and her own brother Iri, every character has an important role to play and is a memorable individual. Eelyn is strong, feisty, and determined heroine, making her character easy to empathize with – I doubt there will be a reader who doesn't root for Eelyn at some point when reading Sky in the Deep. She's the tough and motivated heroine fans of the genre have been waiting for, and after reading Sky in the Deep, I certainly don't think they'll be disappointed. Eelyn's character arc is extremely compelling, giving readers a fierce heroine who isn't all about slicing people up and being cruel – she's human, and while she's fierce, she doesn't revel in the killing forced upon her by an age-old blood feud. Fiske balances out Eelyn's fierceness with a quiet power of his own – because while he can be fierce as well, the reader quickly learns that, like Eelyn's brother Iri, the Riki also has a soft, caring side – not to mention the fact that he's undoubtedly protective of those he loves, and loyal to a fault. Honestly, most everything about Fiske made my heart melt. These characters will catch the hearts of readers, and hold them tight throughout the tale that weaves around them, having readers holding their breath and rooting for each and every one of them.
A note on the relationships in Sky in the Deep, because I feel I would be amiss if I did not mention them. Young explores various relationships – both familial and romantic – in depth, and the power of the convictions the characters feel regarding loyalty to their family and their loved ones is something I have not often seen in Young Adult Fantasy novels. At the core of this tale is a powerful dilemma, as Eelyn must confront her own definition of loyalty and family while daring to put her faith in the people she's spent her life hating. And Young truly dives into this experience, developing Eelyn and those around her as the challenge and shift what it means to be family. And the romance is (in my personal opinion) the best kind of romance for any novel – it is a wonderful, slow-burning romance, made the readers yearn for more of it, yet apprehensive of what the developing romance could bring for the two partners.
"With Sky in the Deep, Adrienne Young has brought to life fascinating, multi-dimensional characters in a starkly beautiful world. Everything is rich and evocative. The ice melts against your skin at the same time the adrenaline takes hold of your heart. This is a gripping story, richly told." – Renée Ahdieh, #1 New York Times Bestselling author of The Wrath and the Dawn
Finally, if my discussion of the brilliance of the characters in Sky in the Deep hasn't already convinced you to pick up this book, perhaps this will – Adrienne Young can write. Young's beautifully poetic writing brings her written descriptions to life, breathing a soul and personality into her world. Descriptions of Eelyn's world include mages, smells, sounds, and feelings that are so richly detailed and heartfelt that the reader will be fully engaged with the story, so deeply immersed that the reader won't even realize they're still turning the pages. My only complaint here would be that, at times, the plot moved far too quickly for my liking, but overall, from gruesome battle scenes, to heartfelt encounters and heart-breaking moments, Young's writing will have readers hanging onto her every word.
So, if Sky in the Deep by Adrienne Young isn't on your list of books to pick up in April 2018 yet, you're going to want to add it, because this is a book that any fan of Young Adult Fantasy and/or Fiction is going to want to read. With rich, detailed characters and simmering relationships, all tied together within a beautifully evocative world, Sky in the Deep is a must-read (4.5/5).