Released in North America on January 2, 2018, Batman: Nightwalker by Marie Lu is a new, eagerly anticipated Batman story that is an action-packed thrill ride from beginning to end. Batman: Nightwalker is the second of a series of DC Icons books, inspired by some of the most well-known DC Superheroes of all-time. This new series features megastar young adult authors Leigh Bardugo (Wonder Woman), Marie Lu (Batman), Sarah J. Maas (Catwoman), and Matt de la Peña (Superman).
Before he was Batman, he was Bruce Wayne. A reckless boy willing to break the rules for a girl who may be his worst enemy. The Nightwalkers are terrorizing Gotham City, and Bruce Wayne is next on their list. The city's elites are being taken out one by one as their mansions' security systems turn against them, trapping them like prey. Meanwhile, Bruce is about to become eighteen and inherit his family's fortune, not to mention the keys to Wayne Industries and all the tech gadgetry that he loves. But on the way home from his birthday party, he makes an impulsive choice and is sentenced to community service at Arkham Asylum, the infamous prison that holds the city's most nefarious criminals. Madeleine Wallace is a brilliant killer . . . and Bruce's only hope. The most intriguing inmate in Arkham is Madeleine, a brilliant girl with ties to the Nightwalkers. A girl who will only speak to Bruce. She is the mystery he must unravel, but is he convincing her to divulge her secrets, or is he feeding her the information she needs to bring Gotham City to its knees?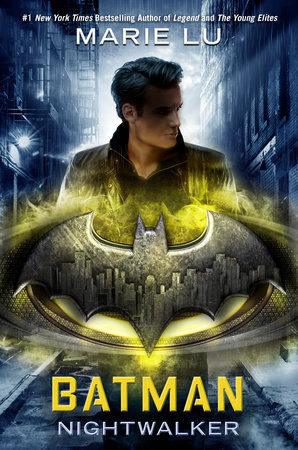 As mentioned, this is second DC Icons book – following Leigh Bardugo's Wonder Woman: Warbringer. After the lack luster performance of Leigh Bardugo's Wonder Woman: Warbringer (my review for which can be found here), I was hesitant to expect much from Marie Lu's Batman: Nightwalker. Especially since I have not, historically, been a fan of Lu's writing. Thankfully, Marie Lu's Batman: Nightwalker surprised in the best way possible, with an enjoyable rendition of a young Bruce Wayne, a complex mystery and a devious foe.
In Batman: Nightwalker Bruce Wayne is a teenager (who has recently turned 18 and inherited his parents vast fortunes) who finds himself caught up in a criminal case that the police can't solve. When his interference in a crime lands him doing community service in Arkham Asylum, he gets up close and personal with some of Gotham's worst criminals. Specifically a young girl names Madeleine, who is somehow linked to a gang who call themselves Nightwalkers – the gang that is currently picking off Gotham's most powerful and wealthy citizens one by one.
"You have a heavy heart, for someone with everything" – Marie Lu, Batman: Nightwalker, p.90.
One aspect of this story that I did truly enjoy were the characters – namely Bruce Wayne and Madeleine, although young Harvey Dent, Alfred Pennyworth and Lucius Fox were also notable additions that not only gave a nod to the historic cast of Batman but also added a fun dimension to the story. Despite this, I am going to focus on Bruce and Madeleine, as they are undoubtedly the main characters of this story. Ever since Christopher Nolan's Dark Knight Trilogy, I've had a hard time loving the newest rendition of Batman on the big screen (though, to be honest, Bat-fleck has been stunningly underwhelming and blah), but Lu's young Bruce Wayne was exactly what I needed. Lu's Bruce is young, rich and woefully ignorant as a result of his stunning privilege; yet despite this, he has also seen the darker underbelly of Gotham through the lens of his parents' death, and he easily accepts that not all of Gotham's residents are as privileged as he. This is perhaps my only complaint about young Bruce – he is far too naive and too trusting, with little backbone. In my imagining, even young Bruce ought to have a bit more grit than that. Helping shed light on the truth of Gotham is Madeleine, criminal mastermind and inmate at Arkham Asylum. As the reader quickly learns, she's devious and crafty, rivaling Catwoman for how tricky her snare for Bruce and the rest of Gotham is. The intelligence and the downright danger of Madeleine just seeped from the page – She's a total enigma; wickedly clever, playful one minute and dangerous the next.
"Tell me, Noble Bruce, what would you have done […] if you weren't so rich and so white and so famous? Would you be the same person you are today? Or would you see justice differently? Do you think we all walk through the world with the same privileges as you?" – Marie Lu, Batman: Nightwalker, p. 211.
Speaking of villains and foes – the Nightwalkers and Madeleine brought the necessary charisma or delicious villainy to counter an inexperienced but clever protagonist. They're not the Joker, or Two-Face, or Catwoman, yet Marie Lu has crafted a villain in the Nightwalkers and Madeleine that managed to rival even the Batman's most nefarious and memorable villains. And yet they're also human – and it is their humanity that makes them (well, Madeleine, in particular) so enjoyable. The Nightwalkers are united by a cause – by the oppression they have suffered at the hands of the rich and corrupt of Gotham – and Madeleine challenges Bruce to see beyond the veil of his wealth and privilege and to peer into the darkness that has seeped into Gotham.
Finally, on to the writing and story of Batman: Nightwalker. Where I found Bardugo's Wonder Woman: Warbringer  to be disappointingly unoriginal and bland, I quite enjoyed the original tone and story of Lu's Batman. This isn't a story that has been told (to the general consumer) before – at least not in this exact way. And while I still find Lu's writing to be oddly-paced and sometimes dull, she made up for it with intriguing characters and plenty of mystery.  My biggest complaint, then, has to be in regards to most of the "twists" and "reveals". They were somewhat expected and nearly always predictable, making Bruce's obliviousness frustrating to play witness to.
Overall, I really enjoyed Marie Lu's Batman: Nightwalker. As stated above, it surprised in the best way possible, with an enjoyable rendition of a young Bruce Wayne, a complex mystery and a devious foe. These positives far outweighed my frustrations towards the somewhat predictable "twists" and Bruce's naivety, leaving me feeling quite positive about this second installment in the DC Icons Collection (4/5).