Set to release in North America on January 2, 2018, Everless is Sara Holland's triumphant debut novel. Fans of Victoria Aveyard (the Red Queen trilogy), Kendare Blake (Three Dark Crowns), Vic James (the Dark Gifts Trilogy) and Stephanie Garber (Caraval) will devour this lush novel's breathtaking action, incredible romance, and dangerous secrets. I simply couldn't wait to start reading it – the description had me intrigued – and after a relative dry-spell of fantastic books, I was in need of a good read!
In the kingdom of Sempera, time is currency—extracted from blood, bound to iron, and consumed to add time to one's own lifespan. The rich aristocracy, like the Gerlings, tax the poor to the hilt, extending their own lives by centuries. No one resents the Gerlings more than Jules Ember. A decade ago, she and her father were servants at Everless, the Gerlings' palatial estate, until a fateful accident forced them to flee in the dead of night. When Jules discovers that her father is dying, she knows that she must return to Everless to earn more time for him before she loses him forever. But going back to Everless brings more danger—and temptation—than Jules could have ever imagined. Soon she's caught in a tangle of violent secrets and finds her heart torn between two people she thought she'd never see again. Her decisions have the power to change her fate—and the fate of time itself.
When I first opened my December FairyLoot box, I was so excited to see that Everless was the book of the month. Not only would I have the opportunity to read the book well before it's North American release date, it also made the perfect early Christmas gift, since I simply couldn't wait to start reading it! Yet I was still hesitant to dive right in, especially since most YA Fantasy books have just been serving up disappointment and mediocrity of late. I know I shouldn't go into a book expecting the worst, but these days it's hard not to approach any new YA fantasy without some trepidation – the genre is often tropey and unoriginal. Publishers churn out versions of the same old story again and again – especially when it comes to the horribly over-saturated genre of retellings. But thankfully, Everless was not a complete disappointment – in fact, despite some problems, I actually quite enjoyed Holland's debut novel.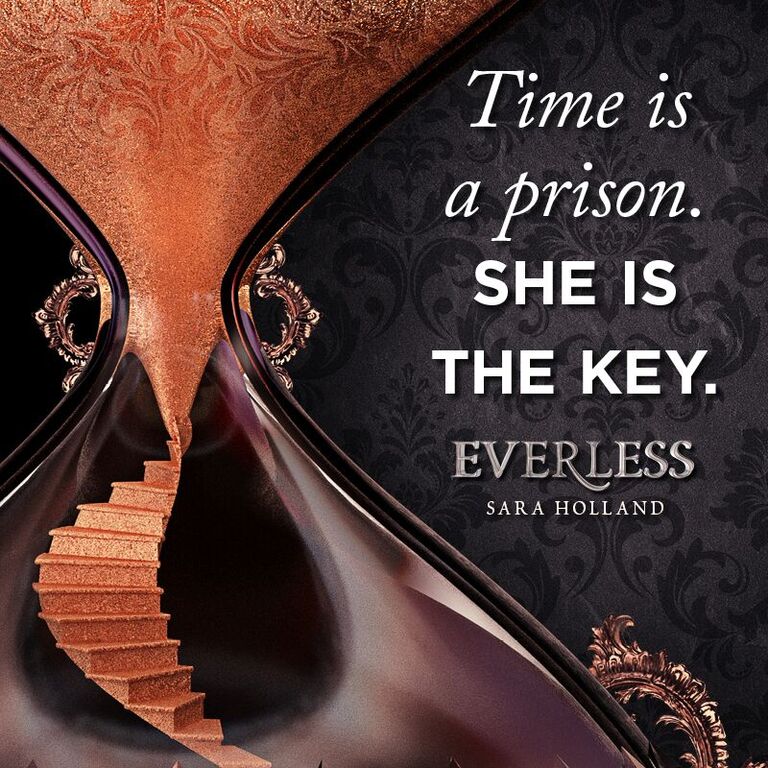 Everless introduces a world where time is currency and a person's time can be drained or added to through blood. Punishments often involve bleeding a person's time from them, which in this world is the morbid equivalent of paying a fine. The richest, of course, have the most time and can, in theory, live indefinitely. While the poorest – like Jules Ember and her Papa – must literally bleed themselves dry to pay rent, cutting their lifespan down further and further. How awful to imagine a world where people bleed themselves, take years off their lives, to give their children a better life. And yet, it is the perfect metaphor for what many impoverished parents in our world do for their kids.
Inevitably, as her father's lifespan wanes, Jules is forced to take a job as a servant at Everless, the estate of the Gerlings – one of the wealthiest and most important families in Sempera. But this is not the first time Jules has resided within Everless – in fact, she lived there for most of her childhood, before fleeing the estate to begin a life in hiding. A life riddled with poverty and danger. A life designed to keep her, and an unimaginable secret, safe.
I really enjoyed the story Holland wove in this book. It was not nearly as straight-forward as I had initially assumed it would be, which was delightfully surprising. To simplify the plot to the extreme, Everless and Jules' past hold many secrets to be uncovered and Jules must find out the truth of why her Papa always warned her away from the place. But these secrets, and the path Jules will take to uncover just how far those who have sought to protect her have gone, are not at all what most YA Fantasy readers would expect. Moreover, it was not simply the plot that was extremely compelling – the characters, the romance, and the setting were all highly engaging, making for an enjoyable read.
Despite this, Everless is not a perfect book by any means and Holland does fall into some traps commonly fallen into by debut authors – namely, a huge info dump to begin the book, and more than a couple confusing descriptions of the world-building and history that remained quite confusing for quite some time. The info-dump at the beginning of the story could have been helpful, but in my opinion, it was altogether too much, too fast, leaving the reader with a plethora of knowledge but no application for the constant stream of information being thrown at them. So while the reader has the information, they don't really understand it at the time they receive it, making the information frustrating and irrelevant until a circumstance arises that puts the information into perspective. This was undoubtedly my main issue with Everless, as I quickly became frustrated by the sheer amount of information I did not understand.
Despite the issues I had with how Holland provided the reader with background information about Everless, my overall opinion of Everless by Sara Holland is generally positive. Everless featured a delightfully complex and almost sinister mystery surrounding its main protagonist and setting, while also developing enjoyable characters and relationships (4/5).