Disclaimer: I received an Advanced Reader Copy of Siege of Shadows by Sarah Raughly from NetGalley in exchange for an honest review. 
Set to be released in North America on November 21, 2017, Siege of Shadows is the second book in Sarah Raughley's Effigies series (which is a planned trilogy). Siege of Shadows follows up the lack luster performance of Fate of Flames (November 22, 2016). In this second installment, Maia and the other Effigies seek out the true origins of the Phantoms that terrorize their world, in what can only be described as a confusing and stunningly boring sequence of events.
There's nowhere to hide. Not when you're an Effigy. No matter where they go, Maia and the other Effigies can't escape the eyes of the press—especially not after failing to capture Saul, whose power to control the monstrous Phantoms has left the world in a state of panic. It's been two months since Saul's disappearance, and there's still no sign of him, leaving the public to wonder whether the Sect—and the Effigies—are capable of protecting anyone. When Saul suddenly surfaces in the middle of the Sahara desert, the Sect sends Maia and her friends out after him. But instead of Saul, they discover a dying soldier engineered with Effigy-like abilities. Even worse, there may be more soldiers like him out there, and it looks like the Effigies are their prime targets. Yet the looming danger of Saul and this mysterious new army doesn't overshadow Maia's fear of the Sect, who ordered the death of the previous Fire Effigy, Natalya. With enemies on all sides and the world turning against them, the Effigies have to put their trust in each other—easier said than done when secrets threaten to tear them apart.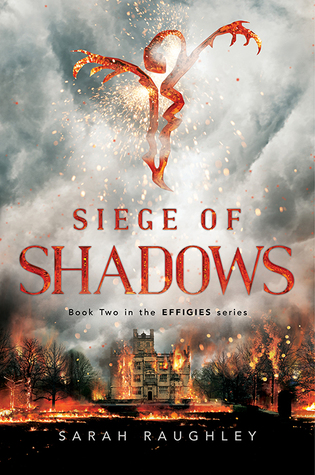 Let me be blunt – I didn't have high hopes for this book from the get-go, but I was still willing to give it a try. Why? I didn't hate Fate of Flames – I just forgot about it. Because it was dull, the writing felt childish and unpolished, and the characters were so ridiculous I didn't connect with a single one. But when I saw Siege of Shadows, I figured I would give it a try, just to see if it had improved upon its predecessor at all.
It hadn't.
Siege of Shadows suffers from the same issues I found removed me from a pleasurable reading experience in Fate of Flames – between the utterly unbelievable characters, the confusing and disjointed story, and the poor quality of the writing, I just could not get into the book (or the story) at all. I found that I was forcing myself to read this one – I quite literally scheduled it into my agenda so I wouldn't forget about it or avoid reading it.
So let's talk about it.
First, the characters. Primarily, I want to discuss Maia, Lake, Rae Chin and Belle, but I'll also touch on Rhys and Saul here too. The Effigies themselves have dull, forced personalities, resulting in the reader not caring about them at all. Seriously, one of them could have died and I don't think I would have really cared at all – in fact, whenever a character did die, I couldn't really make myself care about it. This can partially be attributed to the contrived nature of their character development, and partially attributed to the fact that their characters are just about as artificial and shallow as any I've ever read. The only one with any sort of real depth is Maia (which one would expect, since she is the primary protagonist), and even that falls flat, resulting in a general disconnect from the reading experience. This goes for the rest of the Effigies as well – all four girls suffer from really, really superficial character development that is more descriptive than it is developmental. That being said, it is evident that I am not a fan of the Effigies, so who did I like? Perhaps my favourite character was Aidan Rhys – he, at least, feels like a proper tall, dark and brooding male protagonist, with a dark and complex past, lots of buried emotions and he's got a literal tangle of trouble surrounding him. This series would have been monumentally better if it was about Aidan Rhys instead of a group of superficial barbie dolls with about as much personality as a rock.
Now onto Saul – he's about a un-motivating as villains get. He has no clear motive (because the Effigies just can't seem to figure it out), which means the reader doesn't really have any reason to care about him beyond whatever atrocity he randomly decides to commit here or there, seemingly on a whim. And while this was fine in Fate of Flames, the fact that everyone is still blundering about and Saul still has no real motive (beyond shadowy suspicions and a tendency towards violent crime) became tedious and frustrating by the end of Siege of Shadows.
Overall, I think it's pretty evident I was not a fan of this one. Siege of Shadows fell short in just about every category, with shallow, undeveloped characters, a mess of a plot and a lack of a proper villain (1/5).