Released in North America on August 29th, 2017, the highly anticipated, entirely new coming-of-age story for the world's greatest super hero, Wonder Woman: Warbringer by Leigh Bardugo,  is the first of a series of DC Icons books, inspired by some of the most well-known DC Superheroes of all-time. This new series features megastar young adult authors Leigh Bardugo (Wonder Woman), Marie Lu (Batman), Sarah J. Maas (Catwoman), and Matt de la Peña (Superman).
She will become one of the world's greatest heroes: WONDER WOMAN. But first she is Diana, Princess of the Amazons. And her fight is just beginning. . . . Diana longs to prove herself to her legendary warrior sisters. But when the opportunity finally comes, she throws away her chance at glory and breaks Amazon law—risking exile—to save a mere mortal. Even worse, Alia Keralis is no ordinary girl and with this single brave act, Diana may have doomed the world. Alia just wanted to escape her overprotective brother with a semester at sea. She doesn't know she is being hunted. When a bomb detonates aboard her ship, Alia is rescued by a mysterious girl of extraordinary strength and forced to confront a horrible truth: Alia is a Warbringer—a direct descendant of the infamous Helen of Troy, fated to bring about an age of bloodshed and misery. Together, Diana and Alia will face an army of enemies—mortal and divine—determined to either destroy or possess the Warbringer. If they have any hope of saving both their worlds, they will have to stand side by side against the tide of war.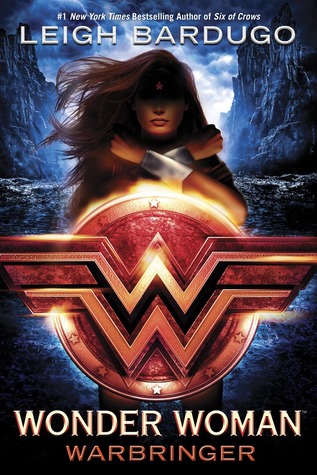 While I truly did enjoy Wonder Woman: Warbringer by Leigh Bardugo, the fact of the matter is that the story-telling just didn't live up to Bardugo's normal standards. Despite promising to be an "entirely new coming-of-age story for the world's greatest super hero", the story itself was quite similar to other coming of age stories about the famed Amazon (notably the recent Wonder Woman film), and the complexity of the story simply felt flat and expected.
One aspect of this story that I did truly enjoy was the character – Bardugo, as always, excelled in developing multi-faceted and witty characters, including Diana, Alia, Jason, Nim, Theo, and the other Amazons (though they were not central to the plot, with Diana spending much of the story away from Themyscira). To begin – Diana herself. Bardugo did a wonderful job bringing everyone's favourite Amazon to life as she threw the untested Princess of the Amazons into the fray. Disappointingly, Bardugo's Diana was a direct reflection of the cinematic Diana, though this did not make for an un-enjoyable read. Diana is both otherworldly and naive, filled with conviction yet uncertain, knowledgeable and foreign. As she ventures through the adventure Bardugo has crafted, Diana begins to reconcile these rifts within herself, developing from the child she was to the woman she was destined to become. Moving on – Alia, the Warbringer of this tale. Alia is a Warbringer, a direct descendant of Helen of Troy, her very existence an uncontrollable chaos destined to drive the world to war and destruction. And yet, at the onset of her story, she doesn't know anything about her "powers" – or herself – having lived an exceptionally sheltered life (before she ran away from home for a summer abroad). She has only just begun to stand up to her controlling big brother, Jason (her legal guardian after the death of their parents), but she, like Diana, still has much growing and learning to do. It was refreshing to read the perspectives of such young and flawed characters, who were both so human and relatable.
Moving on to focus on the story itself. Bardugo has once again brought readers an enjoyable, twisting and suspenseful plot that really reflects both the internal and external conflicts the characters encountered. And while I really enjoy this story, as I have already stated, it simply didn't live up to Bardugo's usual standards, nor the standard I would have expected of any author producing this story. The "twists" and "reveals" were somewhat expected and nearly always predictable, making Diana and Alia's obliviousness frustrating to play witness to. Moreover, and perhaps more importantly, Wonder Woman: Warbringer was starkly similar to the recent Wonder Woman movie (released by DC on May 15, 2017). While both are exceptional works in their own right, I constantly found myself drawing parallels between the two, which drew me out of the story. From the untested Diana rescuing a stranger from a wreck in the ocean, to her spiriting them away to complete a grand quest, the creating a team of misfit friends to confront the given danger (in both cases, this danger was directly linked to war), to that final betrayal by a familiar figure, the entire thing felt like a slightly distorted mirror image of the other. That being said, the addition of Alia's Warbringer heritage and abilities create a new and unique addition to Diana's coming of age story, as did the modern setting of Wonder Woman: Warbringer. It was refreshing to read a book with so many strong female characters – especially two young, untried but passionate female leads.
Overall, I felt that the similarities between Wonder Woman: Warbringer and the Wonderwoman (2017) movie drew the reader out of the story, while also really reinforcing that this story was not, in fact, very original at all (with the exception of Alia's Warbringer abilities). Furthermore, I really wasn't a huge fan of the "journey" in this one, which felt much less impactful than other coming-of-age journey's I have read of late. However, I did, as always, enjoy the witty banter between characters (a hallmark of Bardugo's writing style), in addition to really enjoying the individuality of the characters themselves – especially in regards to Diana and Alia, who were both very well-written and intriguing characters (3/5).