"Every story needs a hero. Every story needs a villain. Every story needs a secret. Wink, Poppy, Midnight. Two girls. One boy. One summer. One bad thing. What really happened? Someone knows. Someone is lying."
Wink Poppy Midnight by April Genevieve Tucholke is an enthralling Young Adult Contemporary read, wherein mystery, deceit and magic coalesce; where nothing is quite as it seems, no one is quite who you think, and everything can change in an instant. Released in Canada on March 22, 2016, this short, yet intense, YA Contemporary read is a mysterious tale full of intrigue, dread, beauty, and a whiff of something strange that is a must read for fans of The Raven Cycle (Maggie Stiefvater) and We Were Liars by E.Lockhart.
Wink is the odd, mysterious neighbor girl, wild red hair and freckles. Poppy is the blond bully and the beautiful, manipulative high school queen bee. Midnight is the sweet, uncertain boy caught between them. Wink. Poppy. Midnight. Two girls. One boy. Three voices that burst onto the page in short, sharp, bewitching chapters, and spiral swiftly and inexorably toward something terrible or tricky or tremendous.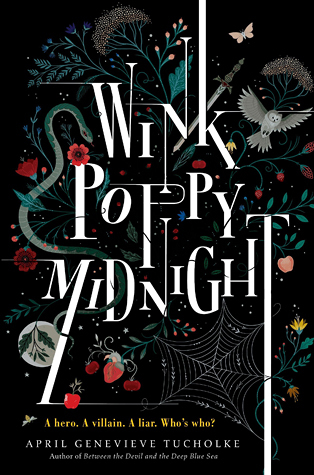 "Revenge. Justice. Love. They are the three stories that all other stories are made up of. It's the trifecta" – Wink Poppy Midnight, April Genevieve Tucholke (p. 32).
I have mixed feelings about Wink Poppy Midnight – while I really enjoyed Tucholke's unique writing style, and the general concept of the story – especially the mystery – I was kind of just confused at the end of the book. Not about what happened – but about why everything happened.
The writing is definitely Wink Poppy Midnight's strongest point; the book is full of the kind of metaphorical, surrealist writing. Tucholke offering up a weird, convoluted mystery in a style that feels as whimsical and enticing as magical realism – leaving readers wondering if, in fact, there is some magic at play. Tucholke employs some similar devices to E.Lockhart (think We Were Liars – it's not just the stories that are similar!), including repetition and abundant metaphors. And while this makes for a nice, enjoyable read, and plenty of quotable lines, unfortunately for Wink Poppy Midnight, the quality of writing just didn't transfer into the story itself.
Because unlike We Were Liars, not a lot happened. Or, more to the point, what did happen seemed kind of pointless, since I, like many readers, was left wondering why why why. This can partially be attributed to the writing, which while pretty and well done, was perhaps more suited to a less complex tale. As it stands, the writing style definitely clashed with the story, often making it difficult to follow what was actually happening, what actually exists versus what was a fairy tale, and what was simply imagined. This had the potential to be really intriguing, but as I still felt confused at the end (again – why why why), I think this is simply a case where the writing got in the way of the story.
Despite my overall frustrations with the book (essentially, never getting down to the why of what started everybody on the path to that incident – yes, someone knows, but I'm not telling), I did really enjoy the journey. Wink, Poppy, Midnight, their entourage of side-characters and the general setting were enjoyable and well suited to the tale, with Roman Luck's house feeling like something straight out of To Kill A Mockingbird (Boo Radley, anyone?). The lead-up to that big incident was really quite enjoyable, and despite the occasional reference to the mystical, it felt right at home in the YA Contemporary genre.
The mysteries of who the villain and hero truly are, and what the secret is, were enough to reel me in. The quirkiness of the protagonists were enough to get me to stay. Unfortunately, Tucholke's writing style overshadowed the story, and I quickly lost the way, and couldn't seem to find my answers even after the story had unfolded and the secrets had been told (2.5/5).