"Wicked, wicked to the core, the city will burn forevermore" – Amanda Foody, Daughter of the Burning City
Devilish complex and completely ensnaring, Amanda Foody's debute novel, Daughter of the Burning City debuted on July 25th, 2017. With a stunning cover, an utterly original cast of characters and a cleverly weaved plot, Foody did not disappoint, and fans of the genre will find themselves more than satisfied with this addition!
Sixteen-year-old Sorina has spent most of her life within the smoldering borders of the Gomorrah Festival. Yet even among the many unusual members of the traveling circus-city, Sorina stands apart as the only illusion-worker born in hundreds of years. This rare talent allows her to create illusions that others can see, feel and touch, with personalities all their own. Her creations are her family, and together they make up the cast of the Festival's Freak Show. But no matter how lifelike they may seem, her illusions are still just that – illusions, and not truly real. Or so she always believed until one of them is murdered. Desperate to protect her family, Sorina must track down the culprit and determine how they killed a person who doesn't actually exist. Her search for answers leads her to the self-proclaimed gossip-worker Luca. Their investigation sends them through a haze of political turmoil and forbidden romance, and into the most sinister corners of the Festival. But as the killer continues murdering Sorina's illusions one by one, she must unravel the horrifying truth before all her loved ones disappear.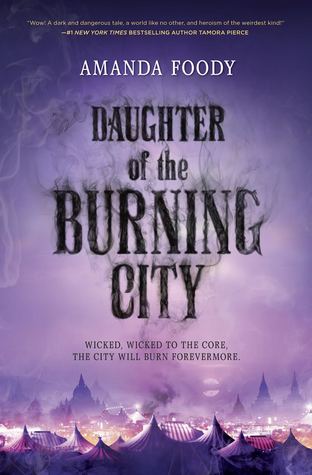 I received Daughter of the Burning City as part of the July FairyLoot Box (which was absolutely fantastic, by the way – full unboxing post coming soon!). This month was my last month as a FairyLoot rep, and I am so, so happy this was the book that came in the box! TO be honest, I may not have picked it up otherwise, so I am glad that it was delivered right to my doorstep – because I would have been disappointed if I ever found out what I had missed out on!
Foody crafted some really intriguing characters here – not only are Sorina and Luca fascinating and complex, and just the right amount of human, but Sorina's illusions/family are perfectly inhuman and human at the same time, each with unique personalities and roles to play in the story. Furthermore, the Proprietor (Sorina's adopted father) and his assistant felt like just as much a part of the main cast as Sorina, Luca and Sorina's family. Everyone truly felt like they had an important role to play, and Foody really made the reader feel empathetic towards their plight. Focusing on Sorina (who is evidently the main protagonist of this plot), she's just the right mix of head strong and timid, coming off as both strong but believable. Her actions and attitude aren't something wholly unattainable for the average teenage girl, but instead something the reader can relate to, because her fears and worries are genuine, and her actions reflective of that. Overall, Foody really hit the ball out of the park with these characters.
Moving on to the setting – Gomorrah is pretty much everything you could ask from a carnival setting gone bad (or, as stated on the cover, wicked). Filled to the brim with magic, deception and sin, Gomorrah draws the reader in just as effectively as the characters, because its just so darn interesting. Its what I had hoped Caraval would be like, and then something more. The setting felt familiar, yet was made truly unique as Foody added elements I've never seen before, and interwove them with the history of Gomorrah and the lives of the characters (who I've already mentioned I love).
Finally, the plot was something else entirely – intricate and complex, with the perfect amount of deception and twists. This is, first and foremost, a fantasy novel, but it's als a murder mystery – something Foody did with exemplary prowess. The story is peppered with hints, yet when the secret is revealed, I still found myself reeling – and thinking back to every hint Foody had dropped for the reader, mentally kicking myself for missing it. But I didn't miss it for lack of attention – I missed it because Foody layered her mystery with a high level of intricacy, so that even hints (and red herrings) felt like a natural part of the plot. Really, I was genuinely impressed by how well Foody wove a mystery into a fantasy setting.
Overall, Daughter of the Burning City  by Amanda Foody was a fantastic debut novel. I was blown away by the quality of the writing, in addition to the depth of characters, the complexity of the plot and the original feel of the setting. Everything came together almost seamlessly, and I found myself entirely engrossed in the world Foody spun – in Sorina's story and in Gomorrha's smoke. Honestly, my only complaint is that there isn't more (5/5)!