Set to release in Canada on Augsut 15th, 2017, Wicked Like A Wildfire by Lana Popovic is sure to entice fans of Holly Black and Leigh Bardugo. The first in a two book series, Lana Popovic's debut YA fantasy novel is a bewitching tale about a bargain that binds the fates—and hearts—of twin sisters to a force larger than life (Disclaimer: I received an Advanced Reader Copy of Wicked Like Wildfire from NetGalley in exchange for an honest review).
All the women in Iris and Malina's family have the unique magical ability or "gleam" to manipulate beauty. Iris sees flowers as fractals and turns her kaleidoscope visions into glasswork, while Malina interprets moods as music. But their mother has strict rules to keep their gifts a secret, even in their secluded sea-side town. Iris and Malina are not allowed to share their magic with anyone, and above all, they are forbidden from falling in love. But when their mother is mysteriously attacked, the sisters will have to unearth the truth behind the quiet lives their mother has built for them. They will discover a wicked curse that haunts their family line—but will they find that the very magic that bonds them together is destined to tear them apart forever?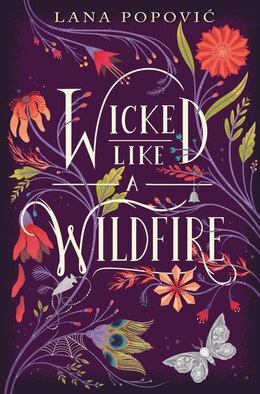 I wasn't quite sure what to expect from Wicked Like A Wildfire – this being Lana Popovic's debut novel, I evidently had no notion of what to expect from her writing style, and the description on the front cover of the book was vague enough that I wasn't exactly sure what to expect from the specifics of the story. So I went into the book a skeptic – not expecting much, but perhaps hoping for more than nothing.
And I was pleasantly surprised by how "Lush. Delicious. Bewildering. And darkly magical" (Evelyn Skye), Wicked Like A Wildfire was.
First and foremost, Wicked Like A Wildfire is a stunning sensory experience, with visual descriptions so rich the reader will find themselves drawn right into the world. Readers won't be able to get enough of Popovic's exemplary prose, as she weaves a tale so vivid and delicious around her characters, with detailed scenery, scents, and powerful visual descriptions coloring every moment on the page with richness and beauty. As if that's not enough, the plot is incredibly engrossing and the characters all burst off the page, fully-formed, flawed, and fascinating. And what's not to love about a story focused on the relationship between two sisters? Wicked Like A Wildfire is, at its heart, a story about family – of love, and loss, and of partnership, as Iris and Malina fight to save everything they've ever known.
Which brings us to my main issue with Wicked Like A Wildfire – the sheer complexity of things Iris and Malina don't know. It completely ruined the pacing of the book, and was just downright confusing at times. Popovic may have over-extended herself when it came to the complexity of the magic system in this book. I felt like I was trapped in a whirlwind of info-dumping for the second half of the book (although it was arguably a prettily written info-dump), and it wasn't necessarily pleasant. More than once I had ot go back and re-read part of the book, because they simply made no sense.
Overall, Wicked Like A Wildfire is an incredibly strong debut novel from Lana Popovic. With prose as delectable and vivid as hers, I can't wait to see what else we'll see from this new YA Fantasy author as she makes her way onto the second book of this series, and then on from there! (3.5/5)